Jennifer R. Gregoriou, W '78
Vice President, Programming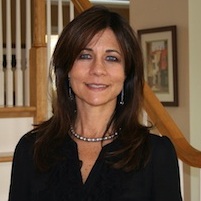 Jennifer is currently Director of Membership & Marketing at The Penn Club. Previously, Jennifer headed a robust event calendar at The Penn Club. As an event industry entrepreneur, Jennifer involves herself with all aspects of running an event done right for her clients. From conception to completion, working side by side, across departments, an exclusive, memorable, content driven and engaging event happens. Prior to this, Jennifer owned a restaurant group managing the day to day operations for 5 holdings.
Jennifer joined the Wharton Club in 2003 as a volunteer for the Social Committee. In 2006, Jennifer came on board as Chair, Sales & Marketing for the relaunch of the Joseph Wharton Awards Dinner. From 2006 – 2008, Jennifer Chaired the Speaker Series Committee. In 2008 Jennifer stepped up to Vice President of Programming for the Club and continues in that role today.
Jennifer lives in NYC and spends her free time catching up with one or all of her 3 daughters. Classical Guitar and Gourmet Cooking are a few hobbies.
WCNY VOLUNTEER POSITIONS:
Vice President of Programming, 2008-Present
Chair, Speaker Series Committee, 2006-2008
Chair, Sales & Marketing, Joseph Wharton Awards Dinner 2006
Former Member, Social Committee, 2003-2006
CONTACT INFO:
Jennifer Schick Gregoriou
jennifer@whartonny.net
programming@whartonny.com
516.551.2992