Jennifer R. Gregoriou W '78
Vice President, Programming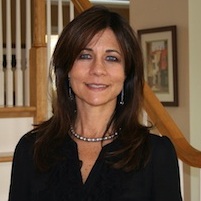 RESIDENCE:
Jericho, N.Y.
FAMILY:
Single with 3 daughters- FIT Junior, NYU Sophomore and Jericho H.S. senior.
BIRTHPLACE:
Maryland
DOING NOW:
Owner of a personal management/virtual assistance business.
PROFESSIONAL HISTORY:
Kypros Restaurant Corp, CEO & Managing Director 1989-2002
Flagg Management, Director of Sales & Marketing 1985-1989
New York State Commission on Science & Technology, Project Consultant 1984-1985
BACK STORY:
Coming from a family whose members excelled in either medicine or music, I figured I'd either study piano, or become a doctor like my dad. After studying various instruments, I had to concede that I was no virtuoso, so that left medicine. It didn't take long to realize- probably after my first fainting spell at the sight of a severe injury- that I needed to find contingency plans. I entered Wharton majoring in Entrepreneurial Management and have never looked back.
Upon graduation, I headed to a 5th floor walk up on Manhattan's Upper East Side and accepted a sales and marketing position for a high end men's clothing line. After 5 years and feeling the need to move on, I began a project based consult position for the New York State Assembly which transitioned into the role of Director of Sales and Marketing for Flagg Management, a trade exposition and financial seminar company. While doing this work, I assumed the position of Treasurer for Assemblyman Joseph Ferris' bid for the Brooklyn Borough Presidency and thus entered the world of New York City politics. Ferris lost the election, but the experience and relationships forged were tremendous.
Still feeling a sense of not having found my passion, I invested in a neighborhood restaurant, and found myself working long days managing expositions and enjoying long nights mingling with customers from all walks of life. It didn't take long for me to devote myself 24/7 to building a restaurant group. In time, I established 5 full service restaurants managing the day to day operations and catering facilities for all. After 12 rewarding years, 3 young daughters and a marital separation, I was at a crossroads about whether to continue the demanding involvement that restaurants require or sell them and be at home to raise my daughters. My daughters won out.
Now that my children are grown, I can dedicate myself to my entrepreneurial spirit and passion for helping people, and have launched an all-encompassing personal management/virtual service business. My goal is to simplify people's lives, add value and make substantial financial and personal improvements. I involve myself with SFO's (single family offices) by collaborating with a myriad of professionals to assisting start-ups in their marketing, internet and sales efforts. I do everything from contract negotiation, handling audits, overseeing investment portfolios and philanthropic endeavors, to mundane tasks such as handling mail and calendar upkeep. My goal as I build my client base is to provide the highest level of excellence, loyalty and discretion.
WCNY VOLUNTEER POSITIONS:
Chair, Speaker Series Committee, since 2006
Chair, Sales & Mktg. Joseph Wharton Awards Dinner 2006
Former member, Social Committee, 2003-2005
Member, SSC Committee, U Penn, since 2002
WHY DID YOU VOLUNTEER FOR THIS POSITION?
To Give Back and stay connected.
PRIMARY MISSION:
I have really absorbed Kenny Beck's mission of "Take the Call" and have a deep commitment to helping Wharton alumni. Nothing gives me greater satisfaction than when a Wharton alumnus wants to speak to their fellow alumnus about a book they wrote or a business they started and I can help make that happen. I can further contribute by writing about the event for the WCNY newsletter and Wharton Alumni magazine for additional exposure.
ACCOMPLISHMENTS & VISION:
I have been fortunate in my life and my accomplishments are what I can give back to others.
NEED FROM WHARTON ALUMNI:
e-mail me telling me what you would like to see the club offer in a speaking engagement.
JUST LIKE TO MENTION . . .
I love connecting with Penn alums- from my class or any class. Hobbies include watching my youngest daughter in her fencing matches, learning golf, playing music and fishing.
CONTACT INFO:
Jennifer Gregoriou
programming@whartonny.com