Business for the Arts
Special Interest Speaker Series
Art has always flourished thanks to those who have power, privilege and the desire to enhance a culture - and a nation - through patronage of the arts. The masterpieces of Leonardo da Vinci and of Michelangelo Buonarroti may have never seen the light of day without the support of the Medici family, of King Francis I and of Popes Julius II and Leo X. As Napoleon Bonaparte - himself the patron of the Neoclassical artist David - rightly said, "Ability is of little account without opportunity". In today's world, it is largely successful business professionals that can provide artists with the opportunities to fulfill their talent. The Guggenheim family has done wonders for modern art and architecture. But the question remains: how can we better connect the world of business to the world of art in a mutually beneficial manner? Even in New York City, the epicenter of the art world since the 1950's, it is difficult to orchestrate networking opportunities among artists, writers and business professionals.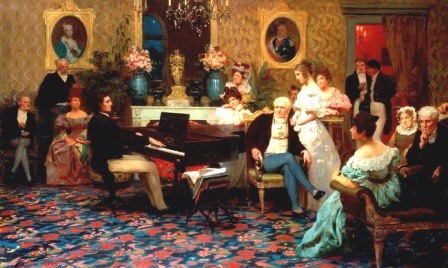 What we need, the writer and art critic Claudia Moscovici proposes, is a modern day salon: a place where business professionals would get the opportunity to meet and hear about contemporary painters, sculptors, writers and singers working in different genres and influenced by a variety of traditions. True to the Enlightenment spirit of the salon, such a place would respect artistic diversity and differences of taste and opinion. It would be a social and intellectual meeting of two largely different worlds that could result in mutual benefits and shared ventures. As Mother Teresa once said, "You can do what I cannot do. I can do what you cannot do. Together we can do great things."
In the first presentation of the concept of "Business for the Arts," Claudia Moscovici will describe what art can do for business and what business can do for art by introducing the notion of a modern day salon--which we can hold right here with the Wharton Club of New York--as well as the aspects of her background that led her to this idea. Claudia will also introduce the artist Leonardo Pereznieto, who will speak about the artistic process and the role social media can play in promoting art as a business and in art instruction. Leonardo will describe his journey from being known only in his native country, Mexico, to being one of the world's most followed artists, featured in numerous publications, including
Forbes Magazine
. He will describe the role of social media in establishing the success of art as well as share with you some of his works and insights about teaching millions how to draw and pint via his international
YouTube
channel.
Click here
for Claudia Moscovici's bio.
Click here
for Leonardo Pereznieto's bio.
When:
Monday, March 16, 2015
6:00 PM – 8:00 PM
Where:
Midtown Location (
Note: Address will be sent via email to all registered guests 24-48 hours prior to the event to the "Primary Email" address listed in your profile. Please review your profile to confirm that the email address listed is correct.)


Cost:
WCNY Supporting Members - $20.00 (WCNY supporting membership costs $95/yr at
Join/Renew Membership)
Gold & Benefactor Members - $0
Other Wharton Alumni/Guests - $40.00
Click here to register
Due to building security requirements, you must pre-register for this event. Walk-ins cannot be accepted.
Registration will close on Sunday, March 15 at 4:00 PM- No Exceptions!

Facebook
Twitter
LinkedIn