Technology Companies That Are Changing the Face of Real Estate
**SOLD OUT....Waitlist Available**
A Conversation with the CEOs of Reonomy, SquareFoot, Kinglet and Honest Buildings
Wharton Real Estate Investment group (WREI)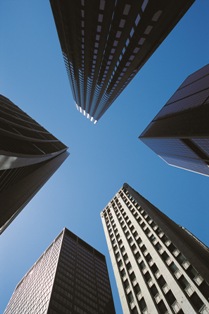 This event has sold out. A waitlist is available. Please complete the form on the right with your email and best contact number. You will receive an email or phone call should a slot open up.
On Thursday, February 5th, 2015, you are invited to a special Wharton Real Estate Investment Group (WREI) meeting with Richard Sarkis, Jonathan Wasserstrum, Alex Kopicki and Geoff Lewis.
Honored Speakers
:
Richard Sarkis, CEO, Reonomy
Rich has extensive experience as an entrepreneur having started and run a number of businesses including an international arbitrage textbook company, a college marketing network and an offshore technology outfit. Most recently, Rich was an Associate Partner at McKinsey & Company specializing in Financial Services in their New York office. Rich has an MBA with honors from the Wharton School.
Reonomy's platform makes CRE property and market-level research simple. By combining
comprehensive and validated data with powerful analytics, Reonomy enables lenders,
brokers and investors to win more business, close more deals and make better & faster decisions.
Jonathan Wasserstrum, CEO of SquareFoot
Jonathan graduated from Columbia Business School. Prior to business school, Jonathan worked in the International Capital Group at Jones Lang LaSalle where he advised foreign and domestic clients on more than $3 billion worth of transactions globally.
SquareFoot is a next generation, web and mobile enabled commercial real estate brokerage serving the space needs of businesses across the country.
Alex Kopicki, CEO of Kinglet
Alex attended the Univ. of Pennsylvania for undergrad (BS History) and the Johns Hopkins Carey Business School for graduate studies (MS Real Estate).
Over the past 10-years Alex has been building teams who excel at building buildings, working as a Real Estate Developer. He has a penchant for fostering creativity and team management and enjoys the competitive environment of deal making.
Geoff Lewis, VP, Honest Buildings
Geoff is Vice President of Business Development at Honest Buildings, a venture backed technology start-up bringing organization and efficiency to the process of hiring design & construction professionals. Prior to joining Honest Buildings, Geoff was an investment professional at Permira Advisors where he focused on identifying, evaluating and executing investment opportunities within the technology sector. Before Permira, he worked in the leveraged finance group at Deutsche Bank. Geoff holds a bachelor's degree from Pomona College with a major in Mathematics.
Honest Buildings (HB) helps you find and meet the perfect people for your projects, fast. We enable the real estate community to make the smartest decisions, one project at a time. With more than $330 million in deal flow to date, HB is changing the way real estate connections are forged.
When:
Thursday, February 5th, 2015
6:00pm-6:30 pm (Networking)
6:30pm-7:30 pm (Panel Discussion)
7:30pm-8:00 pm (Q&A)
Where:
Midtown Location (
Note: Address will be sent via email to all registered guests 24-48 hours prior to the event to the "Primary Email" address listed in your profile. Please review your profile to confirm that the email address listed is correct.)
Cost:
WCNY Supporting Members - $20.00 (WCNY supporting membership costs $95/yr at
Join/Renew Membership)
Silver, Gold & Benefactor Members - $0
Other Wharton Alumni/Guests - $40.00
Due to building security requirements, you must pre-register for this event. Walk-ins cannot be accepted.
Registration will close on Wednesday, February 4 at 4:00 PM- No Exceptions!
Wharton Real Estate Investment group (WREI)
WREI is community of Wharton alumni who are engaged in real estate commercial investment. Through educational seminars, breakfasts with industry leaders and special events, WREI provides members with a forum for visibility and exchange, spotlights the accomplishments of Wharton alumni in the real estate industry and further knowledge accumulation of real estate investment.
Have Questions and/or Suggestions? Ask WREI Officers
:
Celina Kuoch | Chair (W'98)
Nick Petkoff | Vice Chair (WG'02)
Eric Bashford | Vice Chair (WG'88)
Email us at:
wrei@whartonny.com
Facebook
Twitter
LinkedIn