AAAMBAA - Admitted Student Reception
Wharton MBA Admissions & Financial Aid and the African-American MBA Association (AAMBAA)
Wharton MBA Admissions & Financial Aid and the African-American MBA Association (AAMBAA) invites all members of the AAMBAA alumni community to a special welcome reception on the
evening of Wednesday, April 1
.
Please join us at the home of Lana (WG'90) and Willie Woods, as we welcome the incoming AAMBAA class of WG'17! Logistical details are below, and you may RSVP to
sirrahw@wharton.upenn.edu
by
Friday, March 27
.
We look forward to seeing AAMBAA alumni and welcoming the incoming students of the Class of 2017 at this fun-filled evening!
Best wishes,
Wharton MBA Admissions & Financial Aid & AAMBAA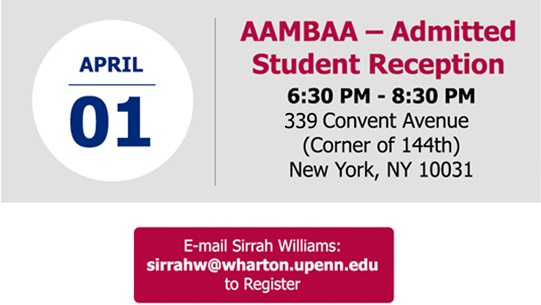 Please e-mail Sirrah Williams at
sirrahw@wharton.upenn.edu
to register.