The Legacy of Romanticism and Impressionism
Special Interest Speaker Series
The art critic
Claudia Moscovici
and the artist
Leonardo Pereznieto
continue the
Business for the Arts
art salon series with a presentation devoted to the legacy of
Romanticism
and
Impressionism
, featuring the works of two internationally acclaimed contemporary artists inspired by these movements:
Edson Campos
and
Kathleen Brodeur,
a husband and wife who share a talent and passion for art.
Romanticism and Impressionism
are not only two of the most popular art movements in the world, but also the most important precursors to modern art. Romanticism emphasized the importance of expressing emotion in art, following Goethe's credo
"Feeling is all
". The external representation of beauty and nature became a mirror for artistic sensibility.
"The artist should paint not only what he sees before him, but also what he sees in him,"
wrote the great German Romantic painter, Caspar David Friedrich.
In this session, you are invited to rediscover the beauty and
passion of Romanticism in the works of Edson Campos
.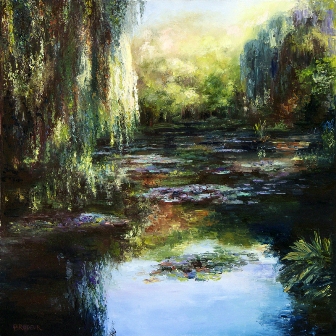 Like the Romantic movement,
Impressionism
transformed the way we look at art. Rather than being primarily concerned with emotions, Impressionism focused on what the eye can see.
"Monet is only an eye. But what an eye!"
declared the post-Impressionist painter Paul Cézanne. Impressionism and Postimpressionism have become analogous with the subversion of official academic standards and thus also with artistic modernity. It is said that Impressionism entailed a rejection of the principles taught by the
Ecole des Beaux Arts
and esteemed by the academic judges of the official art Salon.
This idea of the subversiveness of Manet and of the Impressionists has been deliberately overplayed to draw a firmer marker that separates old traditions from modern art. For not only did Manet and the Impressionists regularly exhibit at the official art Salon in Paris—with Manet and especially Renoir seeking its approval to the very end of their lives—but also they were influenced, along with the officially sanctioned artists, by the most famous Renaissance artists as well as by the masters of Romanticism and Realism: Delacroix, Corot, and Courbet. Yet, without a doubt, Manet and the Impressionists did violate some of the important rules of what is called the "Beaux-Arts system."
Claudia Moscovici will describe the innovations of Impressionism and introduce the works of Kathleen Brodeur, whose beautiful paintings are inspired by some of the same unforgettable landscapes painted by Monet. Both Edson Campos and Kathleen Brodeur will be present at this lecture to discuss their artworks and the process of artistic creation as well as to answer questions from the audience.
Click here
for Kathleen Brodeur's bio.
Click here
for Edson Campos' bio.
Click here
for Claudia Moscovici's bio.
Click here
for Leonardo Pereznieto's bio.
When:
Tuesday, November 3, 2015
6:00 PM – 8:00 PM
Where:
Midtown Location (
Note: Address will be sent via email to all registered guests 24-48 hours prior to the event to the "Primary Email" address listed in your profile. Please review your profile to confirm that the email address listed is correct
.)
Cost:
WCNY Supporting Members - $20.00 (WCNY supporting membership costs $95/yr at
Join/Renew Membership)
Gold & Benefactor Members - $0
Other Wharton Alumni/Guests - $40.00
Click here to register
Due to building security requirements, you must pre-register for this event. Walk-ins cannot be accepted.
Registration will close on Monday, November 2 at 4:00 PM - No Exceptions!

Facebook
Twitter
LinkedIn