Aashna Sinha, WG'13
Associate Chair, Sponsorship, Joseph Wharton Dinner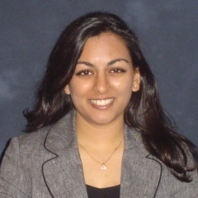 Aashna Sinha serves as Associate Chair, Sponsorship for the Joseph Wharton Dinner, the Wharton Club of New York's annual flagship event.
As a member of the Global Consumer Markets, Global CEO & Board, and Leadership Consulting practices at Heidrick & Struggles, Aashna serves c-suite executives across a variety of sectors, including luxury goods and retail, consumer products and services, and hospitality and leisure. Before joining Heidrick, Aashna developed career pathing, succession planning, and other talent management strategies for Fortune 500 companies as a human capital consultant in Mercer's Leadership and Organizational Performance practice. Prior to that, she worked as a management consultant in Deloitte Consulting's Strategy and Operations practice, where she developed creative business transformation, financial improvement, and process efficiency strategies for government clients. She also has significant experience in financial services marketing, economic research, and legislative policy development.
While at Wharton, Aashna served as an MBA Admissions Fellow, Sponsorship Chair for the Wharton Women in Business Conference, and Producer for Battle of the Bands, the Wharton Marketing Club's annual flagship competition. Aashna graduated magna cum laude with a bachelor's degree in economics, statistics, and international affairs from The George Washington University, and holds an MBA in marketing and organizational effectiveness from The Wharton School of the University of Pennsylvania.