Business for the Arts
Art and Emotion in the sculptures of Auguste Rodin and Leonardo PereznietoSpecial Interest Speaker Series
We tend to associate art and emotion. The Romantic notion of art as the product of an emotive, sensitive and inspired artist who creates masterpieces to move the public has not altogether disappeared from the popular imagination. Yet, in recent history-particularly since the movement of art for art's sake in the nineteenth century and the formalist and conceptual currents of the twentieth century-emotion has almost disappeared from art itself. Even in the movement of conceptual art most closely associated with emotion and spirituality-abstract expressionism-emotion is a part of the process of artistic creation and palpable in the moving effect of art upon (some) viewers rather than readily recognizable in the artistic object itself. There is, of course, no eternally valid rule that dictates that emotion should be an inherent part of a work of art-or of any part of the artistic process, for that matter. And, in fact, art has not always existed as separate from artifact and artistic objects have not always been valued for their expressive powers.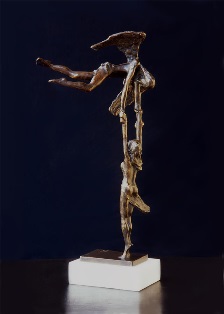 Art historian Claudia Moscovici continues the Business for the arts series by reviewing the history of emotion in art, which began in the Hellenistic period, culminated with Auguste Rodin's sculptures during the nineteenth-century, and continues to this day in the artwork of the postromantic sculptor Leonardo Pereznieto. In the modern period, few artists were as thoughtful and successful in showing the relation between human form and feeling as Auguste Rodin. Despite the religious allusions of The Gates of Hell, Rodin brings emotion down to earth by materializing a passion that functions not only as a connection between the human and the divine, but also as an intimate and profound connection between earthly lovers.
In his masterpiece The Kiss, Rodin revealed human love and life as a process of mutual creation between women and men. Passion is not only a union with those we desire and adore, but also an elevation through shared feelings and sensuality which is always in process, never complete. His representations of the fragility of our mutual creation were as inchoate, vulnerable yet compelling as the material shapes that seemed to emerge only partly finished from the bronze or blocks of stone. In the expression of the beauty, erotic fervor and intensity of human emotion, the artist Leonardo Pereznieto carries on Rodin's artistic legacy.
Leonardo Pereznieto's art harks back to the main motifs of Romanticism-the angel and the muse-which are evocative and beautiful in their own right only to reshape them to our dreams; to make them palatable for our world. He captures the beauty of youth, only to endow it with its own thoughts and dreams. He conveys the poise and delicacy of femininity, only to allow women to fly toward their own visions. In the sculpture "On the way to Heaven" old spiritual motifs-such as winged angels-enact new human relationships. The angel is a young man grasping a young woman that reaches up to him to uplift her; to bring her salvation. The young woman, her body equally beautiful and idealized as the angel's, remains, however, earthly. This uplifting sculpture embodies the movement and ambivalence of age-old struggles to find, through passionate love, some kind of meaning, solace and spirituality on earth. Leonardo's art expresses some of the hopes and promises of our postromanticism.
Click here
for Claudia Moscovici's bio.
Click here
for Leonardo Pereznieto's bio.
When:
Tuesday, November 15, 2016
6:00 PM – 8:00 PM
Where:
Midtown Location (
Note: Address will be sent via email to all registered guests 24-48 hours prior to the event to the "Primary Email" address listed in your profile. Please review your profile to confirm that the email address listed is correct.)


Cost:
WCNY Supporting & Silver Members - $20.00 (WCNY supporting membership costs $95/yr at
Join/Renew Membership)
Gold & Benefactor Members - $0
Other Wharton Alumni/Guests - $40.00
Click here to register
. Please
register early
as events can and do sell out quickly.
Due to building security requirements, you must pre-register for this event. Walk-ins cannot be accepted.
Registration will close on Monday, November 14 at 4:00 PM- No Exceptions!

Facebook
Twitter
LinkedIn