Building the Internet of Things
Author Speaker Series
The first 50 people who sign up will receive a free book!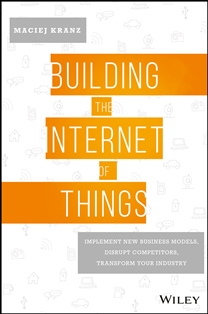 With over $1.46 trillion projected to be spent on The Internet of Things (IoT) in year 2020, no other technology trend will more dramatically impact the near future, but how can businesses prepare for this revolution now? In
BUILDING THE INTERNET OF THINGS: Implement New Business Models, Disrupt Competitors, and Transform Your Industry (Wiley Hardcover / November 21, 2016)
, Maciej Kranz, VP of Cisco's Strategic Innovations Group and one of the earliest pioneers of IoT who helped name it, transforms hype into reality and shows any business how to implement IoT in the here and now for immediate profits and efficiencies.
Kranz, who already has 25 years of experience connecting "everything to everything" (including over 10 years in Internet of Things) under his belt, maps a scalable plan for any size company to begin implementing (or improving upon) an IoT strategy that will deliver instant—and major— results. He'll explain which industry sectors will get the highest returns on IoT investments, which IoT initiatives will bring companies the fastest and biggest paybacks, how much such initiatives will cost and how much money they'll save companies, and which mistakes and challenges most commonly trip them up.
Imagine the increases in productivity and efficiency if in real-time you could connect your company's production lines with suppliers with logistics with operations with transportation. That technology is available now and might already be helping your competitors converge informational technology with operational technology for improved communication and efficiency.
Numerous companies featured in this book are significantly streamlining their operations with IoT solutions and are transforming their industries with IoT technology. In fact, according to Kranz, IoT is responsible for today's remarkable resurgence of the North American
manufacturing
industry.
One manufacturer in the book,
Harley-Davidson
, increased the productivity of one of its plants by eighty percent; reduced its build-to-order cycle from 18 months to two weeks; and saw an overall profitability increase between 3-4 percent. Needless to say, the whole company became a fast adaptor of IoT practices shortly thereafter, spread them throughout their organization, and never looked back.
Also a case study in the book,
Ford Motor Company
uses IoT technology to connect communications among its vehicle plants to its enterprise network and to manage production in real time.
And
PepsiCo
leveraged IoT technology to improve the reliability of its plant manufacturing systems, reduce both downtime and support costs, and enable remote monitoring by its support staff to address technical challenges quickly.
Kranz describes how similar gains are being achieved across
agriculture, city planning, education, healthcare, retail, sports and entertainment,
and the
military
. McKinsey & Co. projects that the first nine impacted industry segments of IoT will expand as follows:
Vehicles: autonomous vehicles and condition-based maintenance (with an estimated value of $210 to $740 billion)
Cities: public health, energy saving, and transportation & logistics ($930 billion to $1.7 trillion)
Outside: logistics and navigation ($560 billion to $850 billion)
Human: health and fitness ($170 billion to $1.6 trillion)
Worksites: operations optimization and health & safety ($160 billion to $930 billion)
Retail environments: automated checkout ($410 billion to $1.2 trillion)
Factories: operations and equipment optimization ($1.2 billion to $3.7 trillion)
Offices: security and energy ($70 billion to $150 billion)
Home: chore automation and security ($200 billion to $350 billion)
Whether your business is in one of these segments or any other,
BUILDING THE INTERNET OF THINGS
, Kranz presents a first-hand analysis of proven strategies for transforming your organization with IoT including:
IoT adoption strategies
Building an IoT cost justification
Fast payback IoT models for leaders who want to immediately implement IoT (Connected operations, remote operation, predictive analytics and preventive maintenance)
How IoT will impact careers and workplace roles
IoT security challenges and how they're being addressed
Not just for large organizations, Kranz explains why smaller organizations should also begin embarking on their own IoT journeys; especially since most are already taking advantage of its key components: cloud computing, IP networking, and analytics. As he writes, "Will this economic tidal wave hit your industry? Without a doubt. It will hit every industry and every segment sooner or later".
Written by one of the most knowledgeable experts in the field,
BUILDING THE INTERNET OF THINGS
is the most up to date guide to where IoT is going and how it will play a role in the future of your organization.
Accomplishments:
Speaker:
Maciej Kranz, Vice President, Strategic Innovations Group, at Cisco.
When:
Monday, March 27, 2017
6:00 PM - 8:00 PM
Where:
Midtown location (
Note: Address will be sent via email to all registered guests 24-48 hours prior to the event to the "Primary Email" address listed in your profile. Please review your profile to confirm that the email address listed is correct.)
Cost:
WNCY & Silver Members - $20 (WCNY supporting membership costs $95/yr at
Join/Renew Membership)
Other Wharton Alumni & Guests - $40
Gold & Benefactor Members - $0
Click here to register
. Please
register early
as events can and do sell out quickly.
Due to building security requirements, you must pre-register for this event. Walk-ins cannot be accepted.
Registration is subject to availability and will close on Sunday, March 26 at 2:00pm - No Exceptions!