Real Estate Hiring Trends
Wharton Real Estate Investment group (WREI)
On Wednesday, April 12, 2017, you are cordially invited to a special Wharton Real Estate Investment group (WREI) meeting with Robert Baron (BCGI Executive Search), Jane Lyons (Rhodes Associates) and Poonam Sharma Mathis (StealthForce) to discuss current Real Estate Hiring Trends.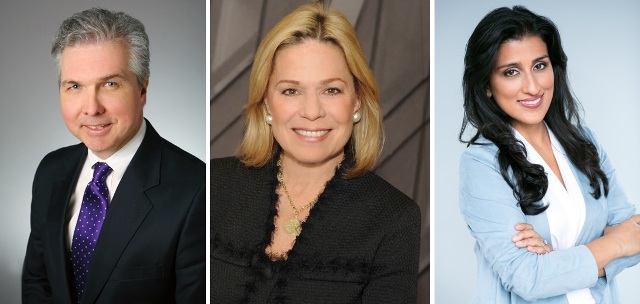 Moderator:
Celina Kuoch, Managing Partner, Nexus Hill Capital
Panelists:
Robert Baron, Founder and President, BCGI American Real Estate Executive Search
Since 1995 Robert has led over 1,000 real estate searches across North America. Robert is also a trustee of NorthWest Healthcare Properties Trust, a publicly traded REIT with assets in Canada, Germany, Australia, New Zealand and Brazil. He has contributed articles to numerous industry publications and has been a guest at Harvard's Real Estate Academic Initiative, NYU's Schack Institute of Real Estate and Columbia's Masters in Real Estate Program. His prior experience includes investment brokerage at CBRE and investment banking at CIBC World Markets. Robert holds a BA from the University of Western Ontario and an MBA from the University of Toronto.
Jane Lyons, Managing Partner, Rhodes Associates
Jane Lyons is a Managing Partner of Rhodes Associates. During her more than 25-year career in executive search and organizational consulting, Jane has completed more than 700 search and consulting assignments, specializing in the real estate industry, globally. Jane has assisted many of the world's leading real estate companies including banking, commercial lending, investment, and private and public owner/developers in recruiting their most successful executives. Earlier in her career, she worked in marketing and sales for the Wharton Business School and CBS, Inc. Jane serves as the Americas Regional Leader for IRC Global Executive Search Partners and previously served as the Co-President for Commercial Real Estate Women New York in 2015. Jane is a member of the Urban Land Institute, Pension Real Estate Association, and Mortgage Bankers Association.
Poonam Sharma Mathis, CEO, StealthForce.com
Poonam Mathis WG'07 is the CEO of StealthForce, which has brought the gig economy to the real estate investment world. StealthForce provides real estate insights and customized consulting solutions, on-demand, for every piece of the investment process. Leveraging an army of consultants from industry, StealthForce delivers curated products through a tech-enabled platform, in a fraction of the time and cost of traditional options. A Harvard undergraduate and Wharton MBA, Poonam recognized the need for such a network during over ten years in principal real estate investment, private equity and development, most recently as Global Deputy to the Head of Real Estate Asset Management at Partners Group. Early in her career she was employee 13 at The Gerson Lehrman Group (GLG), the first expert network for the financial services space, now valued at over one billion dollars.
When:
Wednesday, April 12, 2017
6:00pm-8:00pm
6:00pm-6:30pm (Networking)
6:30pm-7:30pm (Panel Discussion)
7:30pm-8:00pm (Q&A)
Where:
Midtown Location (
Note: Address will be sent via email to all registered guests 24-48 hours prior to the event to the "Primary Email" address listed in your profile. Please review your profile to confirm that the email address listed is correct.)
Cost:
WCNY Supporting Members - $20.00 (WCNY supporting membership costs $95/yr at
Join/Renew Membership)
Silver, Gold & Benefactor Members - $0
Other Wharton Alumni/Guests - $40.00
Click here to register
. Please
register early
as events can and do sell out quickly.
Due to building security requirements, you must pre-register for this event. Walk-ins cannot be accepted.
Registration will close on Tuesday, April 11- No Exceptions!
Wharton Real Estate Investment group (WREI)
WREI is community of Wharton alumni who are engaged in real estate commercial investment. Through educational seminars, breakfasts with industry leaders and special events, WREI provides members with a forum for visibility and exchange, spotlights the accomplishments of Wharton alumni in the real estate industry and further knowledge accumulation of real estate investment.
Have Questions and/or Suggestions? Ask WREI Officers:
Celina Kuoch | Chair (W'98)
Nick Petkoff | Vice Chair (WG'02)
Eric Bashford | Vice Chair (WG'88)
Email us at:
wrei@whartonny.com