Artificial Intelligence and the Impact on Business and Society
Special Interest Speaker Series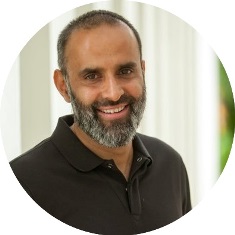 What will work look like 5 years from now? Will there be something more intelligent that will replace us all? Do we really have the skills and assets that we need to compete effectively in the coming decade?
Come and join
Ismail Amla
, Managing Partner of IBM Global Business Services North America, as he shares his vision and perspective on the future of work and what it takes to succeed in the cognitive era for both businesses and professionals alike.
Ismail Amla is the Managing Partner for IBM's Global Business Services (GBS) in North America, IBM's professional services division and the world's largest consulting organization. In this capacity, Ismail sets the strategic direction of the GBS team—the first cognitive consulting practice—as it engages with corporations, government agencies and educational institutions across the United States and Canada. Under Ismail's leadership, GBS North America integrates IBM's unique portfolio of business transformation and technology solutions with outcome-focused methodologies to empower clients to digitally reinvent their businesses and achieve the competitive edge in the cognitive era.
Before joining IBM, Ismail led Fidelity Information Services (FIS) in North America where he was responsible for a $1.2bn business providing products and consulting services to global clients in the Financial Services sector. During this time, Ismail served as CEO of Capco North America leading the growth of Advisory and Services business to over 3,000 consultants worldwide. Ismail implemented significant transformational changes at Capco during his tenure, including integrating the FIS and Capco go to market approach, developing a differentiated internal culture recognized multiple times by Fortune, and introducing new multi year, multi disciplinary Consultancy and Outsourcing service offerings bringing step change value to FIS/Capco clients.
Prior to his work at Capco/FIS, Ismail held numerous executive leadership roles including as Partner at Accenture, where he managed the outsourcing business in Austria, Switzerland and Germany. He was also the delivery lead for Accenture's largest global client in Financial Services and a member of the Accenture UK leadership team where he led strategic Human Capital initiatives. Before joining Accenture in 2004, Ismail served as Vice President and UK Board member for Computer Sciences Corporation, where he owned strategic and operational responsibility for the Financial Services business in the UK and Ireland, led the creation of the Business Process Outsourcing business and was lead partner for CSC vybe, the CSC UK division focused on e-business and innovation.
History, Education and Affiliations
Joined Capco as UK CEO in 2010, named EVP at FIS and CEO of Capco NA, 2011
Joined Accenture as Partner, 2004
MBA with Directors Commendation award from The University of Manchester, 2000
Joined Computer Sciences Corporation as VP of Financial Services, 1997
BS from the University of Salford in Greater Manchester, England, 1983
Doctor of Business Administration from the University of Bolton, England, 2016
When:
Tuesday, May 23, 2017
6:00 PM – 8:00 PM
Where:
Midtown Location (
Note: Address will be sent via email to all registered guests 24-48 hours prior to the event to the "Primary Email" address listed in your profile. Please review your profile to confirm that the email address listed is correct.)
Cost:
WCNY Supporting/Silver Members - $20.00 (WCNY supporting membership costs $95/yr at
Join/Renew Membership)
Gold & Benefactor Members - $0
Other Wharton Alumni/Guests - $40.00
Click here
to register. Please
register early
as events can and do sell out quickly.
Due to building security requirements, you must pre-register for this event. Walk-ins cannot be accepted.
Registration is subject to availability and will close on Monday, May 22 - No Exceptions!