Penn Club Business Networking Group
Business Networking Group (BNG)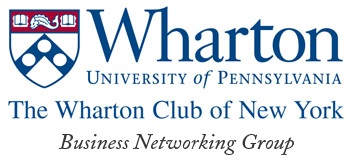 Wharton Entrepreneurs - Consultants - Business Development Professionals - Small Business Owners -Sales Professionals.
If your business growth and success depend on sourcing new clients, new deals, new customers or new business partners:
expand your selling and business development network.
advise and help other non-competing Wharton alumni grow their businesses.
grow with Penn Club members and Wharton Alumni as your extended sales force.
Be a part of the combined Penn Club and Wharton Club of New York Business Networking Group!
This business networking group meets at noon once a month over lunch, at a world-class Midtown Manhattan location - The Penn Club! (Membership in The Penn Club not needed if a WCNY supporting member.)
To register or to learn more about the Penn Club Business Networking Group, please e-mail
Carol Vinelli
at before RSVP-ing for the event to ensure exclusivity. Please be sure to include your full name, line of business, company name, e-mail address and phone number.
Penn Club members should RSVP to
rsvp@pennclubny.org
.
When:
Friday, June 23, 2017 at 12:30 PM
Cost:
WCNY Dues Paying Members - $59/person, no walk-in's.
Other Wharton Alumni - $75/person
WCNY basic membership costs $95/yr at
Join/Renew Membership)
Venue:
The Penn Club
30 W. 44th Street
New York, NY 10036
(No walk-in's; must be pre-approved to attend due to function-industry exclusivity).
Only persons who have contacted Carol and been cleared can attend this lunch.
Click here to register. Registration will close on Wednesday, June 21, 2017.
Please see our schedule of upcoming
Leads Luncheon
.