A Hands-on Workshop for Those in a Transitional Phase in Their Careers or Those Contemplating Entering One
WCNY Retail Network (WhRN)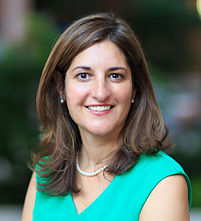 WhRN invites you to a hands-on session with Career Coach,
Crista Salvatore
. According to Crista, "Career transition brings a level of uncertainty and doubt. However, that doesn't have to be the mindset. Transition can bring great progress, growth, and transformation. In this session, we explore two aspects of your career - the internal and external game. The focus will be sharing ideas and learning best practices to help participants navigate their career transition successfully".
Crista Salvatore, Executive Coach and Talent Development Consultant
Crista Salvatore is a seasoned executive coach known for her expertise in helping leaders tap into their authentic leadership style by identifying their strengths and increasing their energy to produce exceptional results. For 10 + years she worked in talent and organization development, where she delivered learning and talent solutions focused on leadership and team performance for various business areas.
Crista takes an intuitive approach to coaching based off of her 14 years of experience and extensive study of the field. Here strong insight and instinct enables her to get beyond the surface and get to the heart of the matter. She helps leaders gain awareness by assessing a holistic view of themselves and leveraging that understanding which improves their presence and performance. Crista's coaching engagements help clients focus on their inner game: increasing their own confidence, which maximizes their ability to make a meaningful impact in their organization. Specific areas she coaches leaders is on their self-management, emotional intelligence, presentation and leadership/management skills.
Crista is certified on a variety of assessment tools: Voices 360, Hogan Assessments Systems, The Myers-Briggs Type Indicator, PDI Talentview of Leadership. She utilizes 360 feedback and other assessment data to identify both strengths and development priorities for the client. Through the process, she assists leaders to create an action plan to further develop their skills to inspire a higher level of performance.
Crista graduated cum laude with Bachelor's Degree in Sociology with a business studies minor at Providence College. She completed an Executive Education Program in Change and Consultation: Principles and Practices of Organization Development at Columbia University in 2011. She also completed a Professional Coaching Program from CoachNewYork at Baruch College's Zicklin School of Business in 2014.
When:
Wednesday, July 12, 2017
6:00 PM - 8:00 PM
Where:
Midtown location (
Note: Address will be sent via email to all registered guests 24-48 hours prior to the event to the "Primary Email" address listed in your profile. Please review your profile to confirm that the email address listed is correct.)
Cost:
WCNY Supporting Members - $20.00 (WCNY supporting membership costs $95/yr at
Join/Renew Membership)
Silver, Gold & Benefactor Members - $0
Other Wharton Alumni / Guest of Alumni (Guests must be accompanied by Wharton Alumni) - $40.00
Click here
to register. Please
register early
as events can and do sell out quickly.
Due to building security requirements, you must pre-register for this event. Walk-ins cannot be accepted.
Registration is subject to availability and will close on Tuesday, July 11th at 4:00pm - No Exceptions!