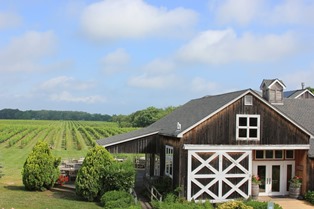 WCNY Special and Social Events Committee presents
Wine Outing: Tour, Tasting & Lunch at Paumanok Vineyards
with Kareem Massoud, W'96
Saturday, August 12th, 2017
8:30am-4:00pm
Join us for a special Saturday in August in Suffolk County for a vineyard tour, tasting and lunch with Wharton alum Kareem Massoud of Paumanok Vineyards.
We will email details to any who sign up.
Founded in the spring of 1983, the 127 acre estate is entirely owned and managed by Ursula and Charles Massoud (WG '70), and their three sons. Born and raised in the "Old World", wine has always been a part of their lives and they continue the tradition at Paumanok Vineyards.
Only premium vinifera grapevines are planted, consisting of Chardonnay, Riesling, Sauvignon Blanc, Chenin Blanc, Merlot, Cabernet Sauvignon, Cabernet Franc and Petit Verdot. The traditional dense planting of the vineyards at 1100 to 1400 vines per acre produces more concentrated fruit and therefore higher quality wines. For their wines, only estate grown grapes are used and production is limited to fewer than 12,000 cases.
Spaces are very limited, so please sign up soon!

Cost:
WNCY & Silver Members - $125 (WCNY supporting membership costs $95/yr at
Join/Renew Membership
)
Other Wharton Alumni & Guests - $140
Price includes transportation, tour, tasting and lunch.
Click here
to register.
Registration closes Friday, July 28th.