Fire Side Chat with Unilever North America CFO, Ivar Blanken
Speaker Series Committee and Wharton CFO Network (WhCFO)
**This event has sold out. A waitlist is available.**
Please complete the form with your email and best contact number.
You will receive an email or phone call should a slot open up.
CLICK HERE to access the waitlist form.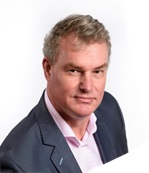 Join us for a fireside chat with
Ivar Blanken, CFO at Unilever, North America
. Ivar will provide a brief overview of Unilever, the North American business and the finance function. He will talk about his journey at the Company, the experiences he has had and learnings along the way. Come, listen to him share Unilever's culture, how finance is business partnering with various other groups within the organization and how it is driving change from inside.
Ivar will be joined by
Heather Pomerantz
, who is VP Finance, Unilever NA Finance Operations.
Ivar's chat will be followed by Q&A so bring all the questions you always wanted to ask from a successful CFO.
Ivar is currently the CFO of Unilever North America. Prior to his current role Ivar was CFO for Unilever's fifth largest region, NAMETRUB (Turkey, Russia, Middle East, North Africa, Central Asia & Caucasia). He has furthermore held positions as VP Finance & Controller for Unilever Americas, CFO Unilever Greece, Finance Director Corporate Treasury and various finance roles in the Dutch Unilever operating companies. Ivar has a master's degree in Industrial Engineering from Twente University and a post-graduate degree in Controlling from Erasmus University. Ivar lives in New York City with his wife and 4 kids.
Heather is currently VP Finance. Prior to this role she was VP Finance & Controller NA, Finance Director Customer Development, Finance Director FP&A, Finance Director NA Shared Services, and various finance and IT roles for Unilever NA. Heather started her career as a Management Consultant with PwC. Heather has her MBA from Columbia University and her B.S. from the Wharton School at the University of Pennsylvania (a proud alumni!). Heather lives in New York with her husband Scott and 2 children Tyler and Jordyn. In her spare time she enjoys skiing and running.
When:
Wednesday, November 1, 2017
6:00pm-8:30pm
Where:
Midtown location (
Note: Address will be sent via email to all registered guests 24-48 hours prior to the event to the "Primary Email" address listed in your profile. Please review your profile to confirm that the email address listed is correct.)
Cost:
WCNY Supporting & Silver Members - $20.00 (WCNY supporting membership costs $95/yr at
Join/Renew
Membership)
Gold & Benefactor Members - $0
Other Wharton Alumni/Guests - $40.00
Click here to register.

Due to building security requirements, you must pre-register for this event. Walk-ins cannot be accepted.
Registration is subject to availability and will close on Tuesday, October 31st at 4:00 pm - No Exceptions!
When:
6:00PM - 8:30PM Wed 1 Nov 2017, Eastern timezone

Where:
Midtown Location

New York, NY
[ Get Directions ]
Enter Waitlist Here...