Celina Kuoch, W'98
Chair
Wharton Real Estate Investment Affinity Group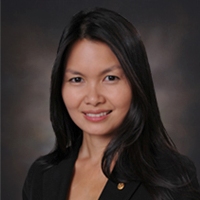 Celina Kuoch is an affiliate of Boustead Securities, LLC. Ms. Kuoch has 19 years of global real estate experience with a sovereign wealth fund, private equity funds, investment banks and a private placement firm that include portfolio asset management, acquisitions and dispositions, loan originations, capital raising and investor relations for funds and projects. Acquired and managed more than $3.5 billion real estate assets and created and spearheaded four teams across North America and Asia Pacific. Very experienced real estate asset manager and acquirer with a strategic approach to investing and managing that is based on macro and micro fundamentals. Worked and lived in multiple cities/countries including Hong Kong, China, India, Southeast Asia, Geneva, London and Madrid in addition to New York. Institutionally trained mindset with an entrepreneurial perspective on managing projects and people.
Ms. Kuoch holds a M.S. in Global Finance in a joint-program from the Leonard N. Stern School of Business at New York University and The Hong Kong University of Science and Technology.
Ms. Kuoch also holds a B.S. in Economics from the Wharton School of Business at the University of Pennsylvania.