Wharton School Career Services
Career development is a lifelong process. Are you leveraging the resources available to Wharton alumni to achieve your short- and long-term career goals? Whether you're looking for a job, looking to recruit and hire, or looking for ways to enhance professional and personal development, Wharton has much to offer on your path to professional success. Please contact the appropriate alumni career services office to learn more about career coaching, job search tools, hiring Wharton and many other career support resources.
To access the Wharton School's Career Center for both MBA's and undergraduate alumni, link to
https://alumni.wharton.upenn.edu/career-center
.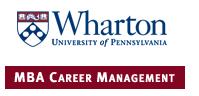 MBA Alumni
Wharton offers lifelong career management support for MBA alumni through the MBA Career Management Office. Over 60 online resources are offered to assist you in your job search. A sample of these resources include the Wharton Alumni Job Board that markets over 4,500 annual positions,
complimentary career advising
, on-demand career programs, resume templates and an Alumni Resume Book which can be used for Boards of Directors. The MBA Career Management Office is ready to assist MBA alumni with their career progression. Click on this
one page
overview.
This WHARTON MBA
Career Management Video
gives an overview of MBA Career Management.
Services include:
Job Boards
Career Advising
Resume Templates
Interview Prep
Job Search Resources
Board of Directors Book
Career Assessment
Offer Negotiation
Executive Search
To find out more and access the Career Management Alumni website, visit
http://mbacareers.wharton.upenn.edu/alumni
or click on this
one page
overview.
Undergraduate Alumni
Wharton undergraduate alumni have access to lifelong career support from Penn Career Services including the Handshake online database, complimentary career advising (including resume and cover letter reviews), access to networking resources, and a variety of online resources including
CareerShift
. A complete list of services can be found here:
https://careerservices.upenn.edu/channels/alumni/
or
click on this link
for a one page overview.
Live Career Tools Series
The Alumni Education Office partners with Career Services to offer a wide array of professional development seminars and workshops exclusively for alumni. Whether you're expanding your network and looking for your first job, preparing for a mid-career change, connecting with other executives, or building your professional skills, Penn Alumni Career Networking is your guide.
Click on this link
for the Penn Programs Page.
Penn and Wharton undergraduate alumni
If you would like to promote internship or full-time positions to undergraduate Penn students or alumni (in the College of Arts and Sciences, Engineering, Nursing, or Wharton) or non-MBA graduate students, please consider posting the position on the
Handshake
job platform. Posting through Handshake is free and easy. After creating an account, you can choose to connect with the University of Pennsylvania as one of your schools of interest. If you have any questions, please feel free to reach out to Natty Leach at
nleach@upenn.edu
.