Crack the C-Suite Code: How Successful Leaders Make It to the Top
Author Speaker Series and Career Speaker Series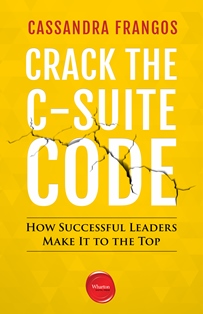 How can I reach the C-suite?
That is the most common question Cassandra Frangos hears from the executives she coaches. Many aspire to reach the C-suite, but the typical paths to the top are hard to find and difficult to follow.
In
Crack the C-Suite Code
, Frangos reveals the hidden dynamics for reaching C-suite. She offers expert guidance based on her experience as a consultant at Spencer Stuart and former head of global executive talent at Cisco, a company with 70,000 employees. Her deep research on the topic includes candid interviews with CEOs, hundreds of aspiring C-suite candidates, and the leading experts in the field.
Frangos identifies four core paths you can follow to reach the C-suite: The Tenured Executive, The Free Agent, The Leapfrog Leader, and The Founder. To actively improve your chances for success, she presents:
Insider knowledge from current CEOs and well known executives
Guiding questions that clarify the risks and rewards associated with each path
Accelerators and derailers that either enhance or detract from your chances to succeed
Advice on how to leverage your experience, leadership brand, and mindset to help you land on the c-suite short list
Insight on how the evolving role of the CEO affects your strategy to reach the top
A career playbook for anyone who aspires to the top spot,
Crack the C-Suite Code
features advice from successful C-level leaders, including Accompany's Amy Chang, Goldman Sachs' Edith Cooper, Nest's Yoki Matsuoka, Cisco's Chuck Robbins, and Corning's Wendell Weeks. These and other top leaders from a broad range of companies, including Microsoft, Google, and General Electric, tell the stories of their success and help aspiring executives crack the C-suite code.
Speaker: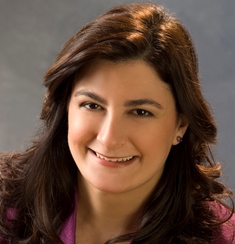 Cassandra Frangos, EdD
, joined Spencer Stuart's Leadership Advisory Services team in 2018, where she focuses on collaborating with Fortune 500 leadership teams on executive assessments, succession planning, leadership development, and top team effectiveness. Previously, she led Cisco's Global Executive Talent practice where she played an integral role in the 2015 succession planning for Cisco's CEO, one of the most respected and longest- tenured CEOs in the tech industry, and conducted the research for
Crack the C-Suite Code
. Called "the executive whisperer" by
Diversity Woman
magazine, she has contributed to
Harvard Business Review, Forbes, Fortune, Chief Executive, NACD Directorship, SHRM publications, LinkedIn, Chief Learning Officer Magazine, HR People + Strategy, and Talent Quarterly
.
"If you've ever wanted to really figure out how to ascend to the C-suite, this is your Rosetta Stone. Based on in-depth research and case studies, Frangos identifies and quickly brings to life the four key routes to the top. A must-read for all aspiring executives!"
—James M. Citrin, Leader, Spencer Stuart CEO Practice, and Author, You're in Charge, Now What?

"Frangos has created a roadmap for executives on the fast track. With concrete depth, she lays out the tactics that guarantee a spot on the top team."
—Sylvia Ann Hewlett, Author, Forget a Mentor, Find a Sponsor and Executive Presence

"Stories straight from CEOs combined with expert advice make this a true insider's guide. The framework provided by Frangos is clearly understood, practical and rooted in real-world insights, making this book a powerful tool for students and executives alike as they strategically map out the future of their careers."
—Boris Groysberg, Professor of Business Administration, Harvard Business School

"With insightful advice and input from scores of C-suite executives, Frangos creates a roadmap for professional success that is both compelling and entertaining."
—David P. Norton, Co-founder, The Palladium Group, and Co-creator, Balanced Scorecard Collaborative
When:
Tuesday, June 5, 2018
6:00 PM - 8:00 PM
Where:
Midtown location (
Note: Address will be sent via email to all registered guests 24-48 hours prior to the event to the "Primary Email" address listed in your profile. Please review your profile to confirm that the email address listed is correct.)
Cost:
WCNY Supporting Members - $20 (WCNY supporting membership costs $95/yr at
Join/Renew Membership)
Other Wharton Alumni & Guests - $40
Gold & Benefactor Members - $0
Click here to register
. Please
register early
as events can and do sell out quickly.
Due to building security requirements, you must pre-register for this event. Walk-ins cannot be accepted.
Registration is subject to availability and will close on Monday, June 4th at 11:00am - No Exceptions!