Nimble: Make Yourself and Your Company Resilient in the Age of Constant Change
Career Development and Author Speaker Series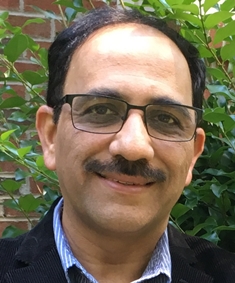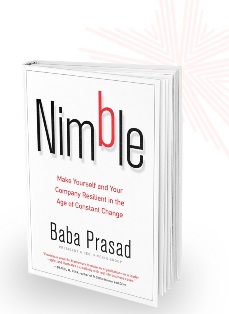 The Career Development Committee, in collaboration with the Author Speaker Series Committee, is pleased to welcome Baba Prasad to discuss his forthcoming book,
Nimble: Make Yourself and Your Company Resilient in the Age of Constant Change
.
Prasad – who earned his Ph.D. from Wharton – is a Wharton fellow, management consultant, and leading thinker in strategy and innovation. You can read his full bio
here
.
Humans principally rely on intelligence when they face turbulent change and need to be agile. Prasad wonders, "Can there be an organizational equivalent for intelligence?" – and this question has led to some very interesting answers. Through case studies drawn from Brazil to south India and from France to Arkansas, Prasad's research gives us a simple, inexpensive framework to become resilient leaders and to create resilient companies that can handle all kinds of change.
During this session, Prasad will share the insights from his book that have come from more than fifteen years of research at some of the world's best business schools. You'll learn how to:
Use the five agilities we need in order to be nimble - analytical, operational, inventive, communicative, and visionary – to solve practically any problem
Assess the agilities profile you and your company have right now
Find out what agilities profile is right for your organization
Move from your current agilities profile to the necessary agilities profile
Nimble
has been called the new paradigm that bridges business strategy and personal leadership in an era of turbulence. It has received
advance praise
from business thinkers like Wharton's Adam Grant, Dan Pink, Tom Rath, and Vijay Govindarajan as well as from CEOs like Brad Smith (Intuit), Frans van Houten (Royal Philips), Frank D'Souza (Cognizant), and John Replogle (Seventh Generation).
Though copies of Nimble will not be sold at this event, you are encouraged to preorder your copy (or copies)
here
to receive many special bonus offers. We hope to see you there!
When:
Thursday, May 31, 2018
6:00 PM – 8:00 PM
Where:
Midtown Location (
Note: Address will be sent via email to all registered guests 24-48 hours prior to the event to the "Primary Email" address listed in your profile. Please review your profile to confirm that the email address listed is correct.)
Cost:
WCNY Supporting Member - $20.00 (WCNY supporting membership costs $95/yr at
Join/Renew Membership)
Gold & Benefactor Members - $0
Other Wharton Alumni/Guests - $40.00
Click here
to register. Please register early as events can and do sell out quickly.
Due to building security requirements, you must pre-register for this event. Walk-ins cannot be accepted.
Registration is subject to availability and will close on Wednesday, May 30th at 11 AM - No Exceptions!