A Talk with Leaders in the Restaurant World
How to build and grow a successful restaurant, from one location to a chain or group.
**This event has sold out. A waitlist is available.**
Please complete the form with your email and best contact number.
You will receive an email or phone call should a slot open up.
CLICK HERE to access the waitlist form.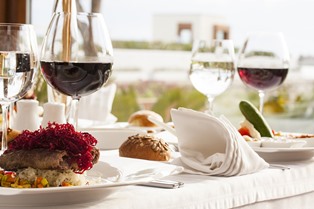 The WCNY Retail Network (WhRN) and the Speaker Series Committee invites you to an in depth roundtable discussion with leaders in the restaurant world on how to develop successful restaurants from identifying locations, to developing the menu, marketing, public relations and reviews, technology impact from reservations to payments systems, promotions and lessons learned.
Some specific points covered (bring your own questions):
What was the spark or idea for your first restaurant?
How long did it take to start up?
How did you start marketing it?
How did you identify your target customer base?
How do you build relationships with influencers/food critics?
How do you use services such as Zagat, Yelp, Trip Advisor?
Do you collect data on customers? How do you use it?
Impact of various reservation/payment systems?
How do you maintain the excitement/freshness of the restaurant experience?
What do you see as your next big challenges?
The Panelists:
Ben Conniff,
Co-Founder and President of
Luke's Lobster
.
Luke's Lobster is a Maine-bred lobster shack with 29 locations in 9 US cities and 7 in Japan and Taiwan. Luke's serves best in class seafood, company controlled from docks to plates. Luke's only buys from sustainably-managed fisheries and tells every guest the harbor each fish came from each day. Luke's is a Certified B Corp and donates a portion of proceeds from its award winning lobster rolls to The Ocean Foundation and other coastal non-profit initiatives.
Bill Taibe
, Owner/Executive Chef,
The Whelk
,
Kawa Ni
and
Jesup Hall Restaurants
Bill Taibe is a leading restaurateur owning and operating high end and hugely successful restaurants in lower Fairfield Connecticut. His restaurants source and support local farms and distributors and create unique atmospheres leveraging spaces like Westport's former town hall at Jesup Hall or, with Kawa Ni , bringing a unique style of regional Japanese cuisine not known in the US. Bill has been highly rated ("Excellent") by The New York Times and has appeared in the Today Show, Martha Stewart and Movable Feast.
Christina Tobia
, Associate Director Digital Marketing,
Union Square Hospitality Group
Christina Tobia leads digital marketing for USHG and its 19 brands. Her team shares and extends USHG's principles of Enlightened Hospitality digitally through thoughtful partnerships, compelling content and data driven experiences. Christina and her team have launched over 25 digital channels and have doubled engagement across social channels. Prior to joining USHG, Christina held various roles at Martha Stewart Living Omnimedia on Publishing, Merchandising and Digital Operations teams, ultimately managing MSLO's first Digital Content Marketing team. Christina graduated from Fairfield University with a degree in management and entrepreneurship.
Wendy Weinstein Karp
, Owner,
W2K Consulting
,
PLATES Restaurant
Wendy Weinstein Karp is a marketing consultant who has spent 30 years in food and beverage, and the on-premise restaurant sector. In her last corporate assignment she was the Director of Global Marketing for The San Pellegrino Beverage Group and launched the brand in the US extensively through the on-premise sector. She currently outsources CMO thinking and implementation for her restaurant, food and beverage clients. She is an owner of PLATES Restaurant in Larchmont, NY and founded The Larchmont Farmer's Market. She is a graduate of the University of Pennsylvania.
Terry Pranses
, President,
Pranses Research Services
, will moderate the discussion. For over 20 years, Pranses Research has provided both qualitative and quantitative insights for growing brands and professional associations in the Food and Beverage segment. Clients have ranged from producer boards (Canadian Beef) to well-established imports (Bauli, Hero and Pompeian). Terry is a graduate of The University of Pennsylvania.
NOTE: If you would like to help plan, execute and lead Wharton Retail Network events, please email
WhRN@whartonny.com
. We will have a short meeting at the end of this event to discuss next steps.
When:
Monday, November 5, 2018
6:00 PM - 8:00 PM
Where:
Midtown location (
Note: Address will be sent via email to all registered guests 24-48 hours prior to the event to the "Primary Email" address listed in your profile. Please review your profile to confirm that the email address listed is correct.)
Cost:
WCNY Supporting Members - $20.00 (WCNY supporting membership costs $95/yr at
Join/Renew Membership)
Gold & Benefactor Members - $0
Other Wharton Alumni / Alumni Guest - $40.00
To Register:
This event has sold out.
Due to building security requirements, you must pre-register for this event. Walk-ins cannot be accepted.
Registration is subject to availability and will close on Friday, November 2nd at 4:00pm - No Exceptions!
When:
7:00PM - 9:00PM Mon 5 Nov 2018, Eastern timezone

Where:
Midtown Location

New York, NY 10036
[ Get Directions ]
Enter Waitlist Here...