Cracking Complexity: The Breakthrough Formula for Solving Just About Anything Fast
Author Speaker Series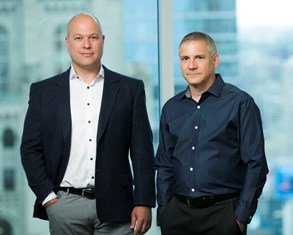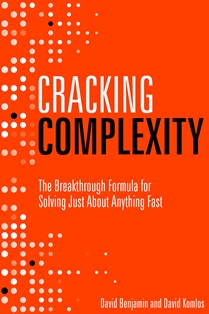 Today, organizations are grappling with ambiguity, volatility and paradox surrounding the challenges they face. This is complexity. But too many leaders approach complexity the wrong way – they push their people harder and harder and tackle problems one-at-a-time over months, sometimes even years. It's like setting a pot of water on "low" and waiting for it to boil. To solve the seemingly intractable challenges that leaders bang their heads against for months – to get the water to boil – you must generate a high amount of heat very quickly. In this book, the authors share their revolutionary method for solving an organization's most important challenges in mere days – not months, not years. Leaders will learn the formula for solving complex challenges, so that they can produce explosions of brainpower and emotional commitment resulting in major leaps of progress in compressed timeframes – in business, tech, healthcare, government, NGOs, and anywhere people are trying to solve complex challenges. Leaders will learn how to:
Quickly identify and scope complex problems
Frame questions effectively
Assemble the right team to address the challenge and equip them to work together effectively
Create thousands high-value interactions amongst them – and do that fast
Decide what course of action is required
Co-create a shared plan of attack that will guide their actions going forward
…all in 2-3 days
The result: explosions of brainpower and emotional commitment that produce major leaps of progress in compressed timeframes – in business, tech, healthcare, government, NGOs, and anywhere people are trying to solve complex challenges.
ABOUT THE AUTHORS
David Komlos
. CEO,
Syntegrity
, is an entrepreneur, early-stage investor and speaker who has helped change the way many global leaders approach their top challenges. From Fortune 100 transformation to international aid, content creation in sports and entertainment to improving access to life-saving products, David advises top leaders and enterprises on how to dramatically accelerate solutions and execution on their defining challenges. He frequently speaks on topics related to complexity, fast problem-solving and mobilization, and scaling talent. He lives with his family in Toronto.
David Benjamin
. is Chief Architect of
Syntegrity
's implementation of the Complexity Formula and regularly guides leaders and their teams through their application of the formula, helping them get to decisions and action in days, no matter the industry, type of challenge, or nature of the organization. In this capacity, David has become a trusted advisor to Fortune 500 companies and government leaders on how to organize for complexity and find traction in the face of the intractable. He frequently speaks on a wide range of topics related to complexity, effective and efficient problem-solving, and human dynamics in systems. David spends most of the rest of his time and energy on writing, family, long-distance running and cracking cryptic crosswords. David and his wife, Angie, live near Toronto and have three incredibly talented daughters whom he loves equally.
When:
Thursday, May 9, 2019
6:00pm - 8:00pm
Where:
Midtown location (
Note: Address will be sent via email to all registered guests 24-48 hours prior to the event to the "Primary Email" address listed in your profile. Please review your profile to confirm that the email address listed is correct.)
Cost:
WCNY Supporting Members - $20 (WCNY supporting membership costs $95/yr at
Join/Renew Membership)
Other Wharton Alumni & Alumni Guests - $40
Gold & Benefactor Members - $0
Click here to register
. Please
register early
as events can and do sell out quickly.
Due to building security requirements, you must pre-register for this event. Walk-ins cannot be accepted.
Registration is subject to availability and will close on Wednesday, May 8 at 4:00PM- No Exceptions!
Cancellations must be made at least 48-hours (business day) prior to the event date by sending an email to
Gabriela Sanchez
. Refunds or credits for future events are not available for any no-shows or late cancellations.