Dustin "Dex" Smither
Senior Project Manager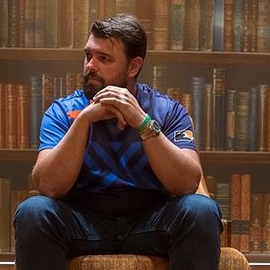 In Envrmnt, Dex is focused on the communication, process, discovery, and delivery in the 5G/MEC teams. He facilitates the daily rituals at the developer level while also organizing discussion and direction with the team leads. He as introduced Scrum-at-Scale and Story Mapping methods to keep several cross-functional teams performing under a consistent vision and pipeline. He has operated for over 15 years under the mantra "On Time, On Target".
With a background in design, Dex also functions as a liaison to current and potential clients to help shape requirements and user stories of XR experiences; providing direction as to the scope of what is possible with the current technology while also pushing for value for the end user.
Dex has produced and designed over 100 games with THQ, Gamelab, Slingo, Scholastic, and Atari. He has taught game design at the New York Film Academy and is a co-founder of the annual Gameacon conference which supports indie game developers. He organizes a tabletop social group of NY-area game designers.
Prior to games he worked in film and television, including Sex and the City, Replacements, Station Agent, and Reading Rainbow. He holds a B.A. in Psychology from Susquehanna University and a M.F.A. in Digital Design from Parsons.