Private Tour, Wine Tasting, and Lunch at Paumanok Vineyards
Wharton Retail Network (WhRN) and Special & Social Events Committee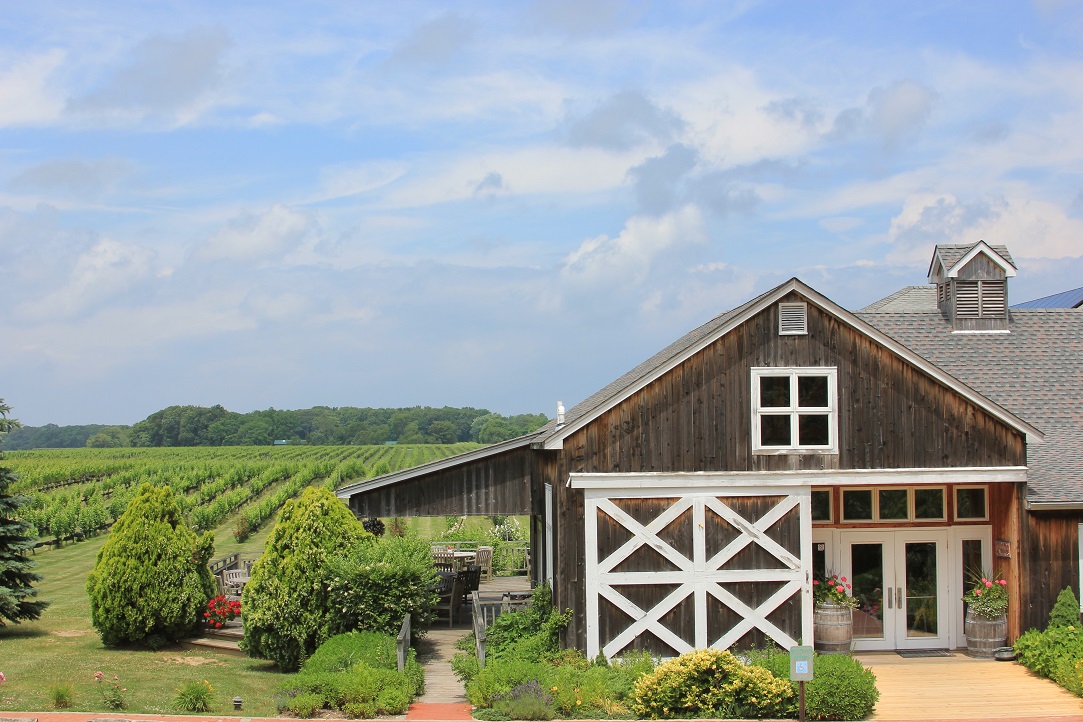 On July 14th, The Wharton Retail Network (WhRN) and Special & Social Events Committee invite you to a private tour, wine tasting, and lunch at Paumanok Vineyards. Their spacious tasting room is built on top of a barrel cellar and surrounded by a deck overlooking the vineyards. Following the tour, there will be lunch and a wine tasting of several of the winery's bottlings. Lunch will be in the form of an assorted sandwich platter plus wine, water, and potato chips will be available. Lunch is included in the event fee. Oysters will be also available a la carte at $16 for half a dozen or $28 for a dozen, plus tax. This includes condiments: lemon, cocktail sauce, and tabasco sauce. They are fresh, local oysters shucked on the deck.
Paumanok, a 36-year old vineyard in the North Fork of Long Island, is hosting this half-day outing on its 127-acre wine estate. Founded in the spring of 1983, the winery plants only premium vinifera grapevines to produce red, white, rosé, and sparkling wine. Since then, a traditional dense planting at 1100 to 1500 vines per acre has been adopted to grow high quality wines. Grape varieties include: Chardonnay, Sauvignon Blanc, Chenin Blanc, Riesling, Cabernet Franc, Cabernet Sauvignon, Merlot, and Petit Verdot. The winery is a renovated turn-of-the-century barn.
Paumanok is owned and managed by The Massoud Family, including
Charles Massoud (WG'70)
and
Kareem Massoud (W'96)
who will be guiding us through the private tour. The estate has been successfully expanding since its foundation. Today, Paumanok wines are found all over Long Island and NYC as well as other markets such as Florida, Massachusetts, Canada, Denmark, Norway, Sweden, Switzerland and Japan.
Event Chair,
Takashi Yoshizaki (WG'10)
will be on site with Kareem. Takashi Yoshizaki has been providing independent finance and analytics consulting services since 2016. He developed his career in KPMG, BearingPoint, and PwC where he provided technology, finance, and management consulting services. He also co-founded Artbeat S.A.S. in Paris, France, and ran its business in New York City for a few years. He received a B.S. degree in physics from Keio University in Tokyo, Japan and a Master's degree in telecommunications management from University of Dallas. He earned an M.B.A. from the University of Pennsylvania's Wharton School (WG'10).
When:
Sunday, July 14, 2019
11:30am - 2:45pm
Attendees can go the main building at the winery from 11AM, when doors will open.
Where:
Paumanok Vineyards
1074 Main Rd
Aquebogue, NY 11931
Attendees arrange their own transportation. For information on how to get to the winery, please visit their website at: www.paumanok.com.
Cost:
WCNY Supporting Members - $40 (WCNY supporting membership costs $95/yr at
Join/Renew Membership)
Other Wharton Alumni & Guests - $50
Price includes the tasting of five wines or more, private tour, and lunch.
Wharton alumni will get the Paumanok Wine Club discount (an additional 10% off) on any bottle of wine purchased during the visit.
Click here to register
. Please
register early
as events can and do sell out quickly.
If you would like to discuss getting involved with WhRN, please send an email to Susan Teplitz, Chair at whrn@whartonny.com.
Cancellations must be made at least 48-hours (business day) prior to the event date by sending an email to
Gabriela Sanchez
. Refunds or credits for future events are not available for any no-shows or late cancellations.