2020 Outthinker Virtual Summit
April 6th and 7th — 20 World Class Speakers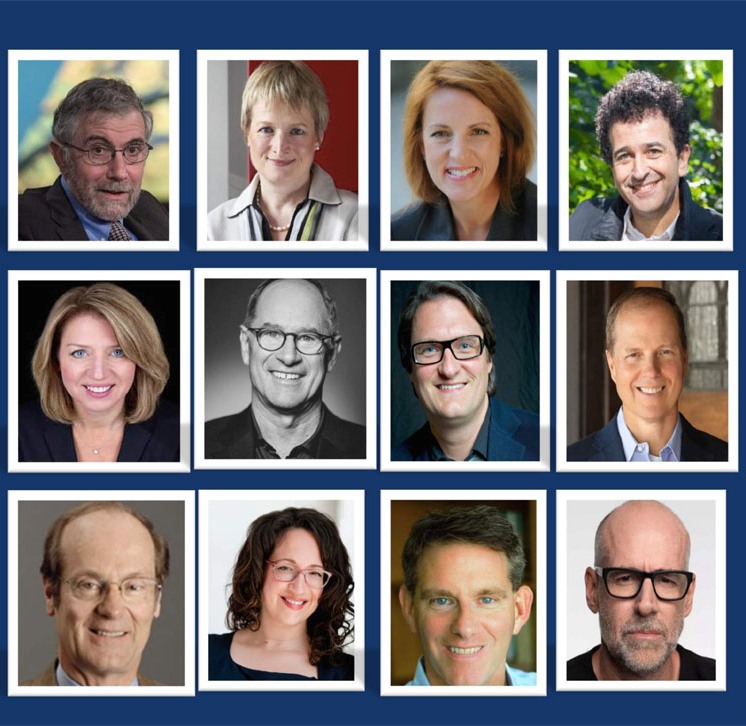 We face a moment of unprecedented uncertainty. It's crucial to rapidly learn the tools, concepts and frameworks that enable us to understand and shape the future. COVID-19 represents an obstacle of yet-undiscernible depth or duration. Yet our organizations persevere in their commitments to their missions and visions … to a future that works.
On April 6th and 7th, the Outthinker Strategy Network will assemble some the world's foremost business thinkers to share cutting edge ideas to help us navigate forward.
From across disciplines – economics, leadership, marketing, strategy, culture, organization, technology, operations – you will hear from and personally interact with the creators of the cutting-edge ideas most critical to navigating through the turbulence.
100% of profits from sales for this summit will be donated to non-profit organizations helping the most at-risk communities and populations dealing with the virus, from children who no longer have access to hot lunches, hourly workers no longer with income, and the elderly most at risk medically.
Learn from the best.
Speakers Include:
You'll find the latest info and speaker line-up here.
Paul Krugman – Leading Economies Through Crises and the Long-term Implications of COVID-19
Roger Martin – Former Dean of Rotman Business School, ranked by Thinkers50 as #1 management thinker in the world (2017) on creating great choices through integrative thinking
Scott Galloway – Best-selling author and NYU marketing professor on how tech titans will shape competition beyond tech
Rita McGrath – World's #1 ranked strategy thought-leader by Thinkers50 on how to spot inflection points
Ming Zeng – Former Chief Strategy Officer of Alibaba on the networked, intelligent organization of the future
Amy Webb – Leading futurist, award-winning author, and professor on strategic foresight, the future of AI and its implications on humanity
Whitney Johnson – Thinkers50 member, best-selling author and podcaster on applying disruption theory to accelerate your career
Safi Bahcall – Physicist, biotech entrepreneur, public CEO, and author of FT Book of the Year, on how to nurture transformative ideas
Liz Wiseman – The most influential leadership thinker in the world (by Thinkers50) on how to lead through turbulent times
Mark Johnson – Co-founder of Innosight and authority on disruptive innovation on a new way of leading to inspire breakthrough growth
Rob Wolcott – Co-founder of the The World Innovation Network on mind-sets and cultures to shape the future
Pete Fader – Wharton professor and leading authority on customer lifetime value and evolving into a customer-centric organization
George Day – Wharton professor and leading innovation thinker on creating organizations that thrive on turbulence
Nicolas Bry – Founder of Orange Startup Studios and author of The Intrapreneurs Factory on how to activate internal innovation
Kaihan Krippendorff – Thinkers50 Innovation Award Finalist, and Author of Driving Innovation From Within presenting on enabling employees to drive innovation
Verne Harnish – Founder of Gazelles and author of Scaling Up on managing through turbulence to get to growth
Josh Linkner – NYT bestselling author, VC investor, and #1 most booked innovation keynote speaker on entrepreneurial thinking and leadership
What you'll get out of joining.
A unique opportunity to interact with the world's foremost business thinkers from the comfort of your couch.
You'll leave the summit with an understanding of what the future may hold for you. You'll begin to see the outlines of the "new normal" from economic, technological, social, and organizational perspectives, and what that means for your industry, your company, your team and yourself.
Guided by these business thinkers, you arm yourself with the latest tools to craft strategies, drive innovation and lead transformation to get you through the turmoil. You'll be able to define and refine plans for shifting gears and creating the future.
Finally, you won't just leave with a plan. You'll also get insights on how to execute on your updated strategy. Plus you'll learn the leadership techniques and emerging organizational models to activate your people and broader communities to make it happen.
Here's how it works:
2 Days – On both April 6th & 7th, the summit runs from 5am to 6pm Pacific Daylight Time.
20 Speakers – With 20 speakers on the agenda, you can pick and choose which sessions you'll join.
Live + Q&A – All sessions are happening live and include Q&A for you to ask your questions.
Online – You can join from anywhere, as long as you have internet access. No travel needed!
Recordings – After the summit, you get recordings and transcripts to check what you've missed.
One Year Access – Moreover, you keep access to the content for a full year.
100% of profits donated to charities supporting populations at risk from COVID-19
When:
Monday, April 6, 2020 and Tuesday, April 7, 2020
8:00 AM - 6:00 PM
Click here for the agenda
Format:
Via Zoom
Cost:
$99 for a single pass. Those registering via WCNY will receive 30% off the cost of this single pass.
Register:
Click here
to access the promo code and link to register. Please note, you will be required to LOGIN to access this page. If you are unable to recall your login information or are unsuccessful, please
click here
for assistance from our Club Administrator.