WCNY & WBMBAA Summer Soirée 2021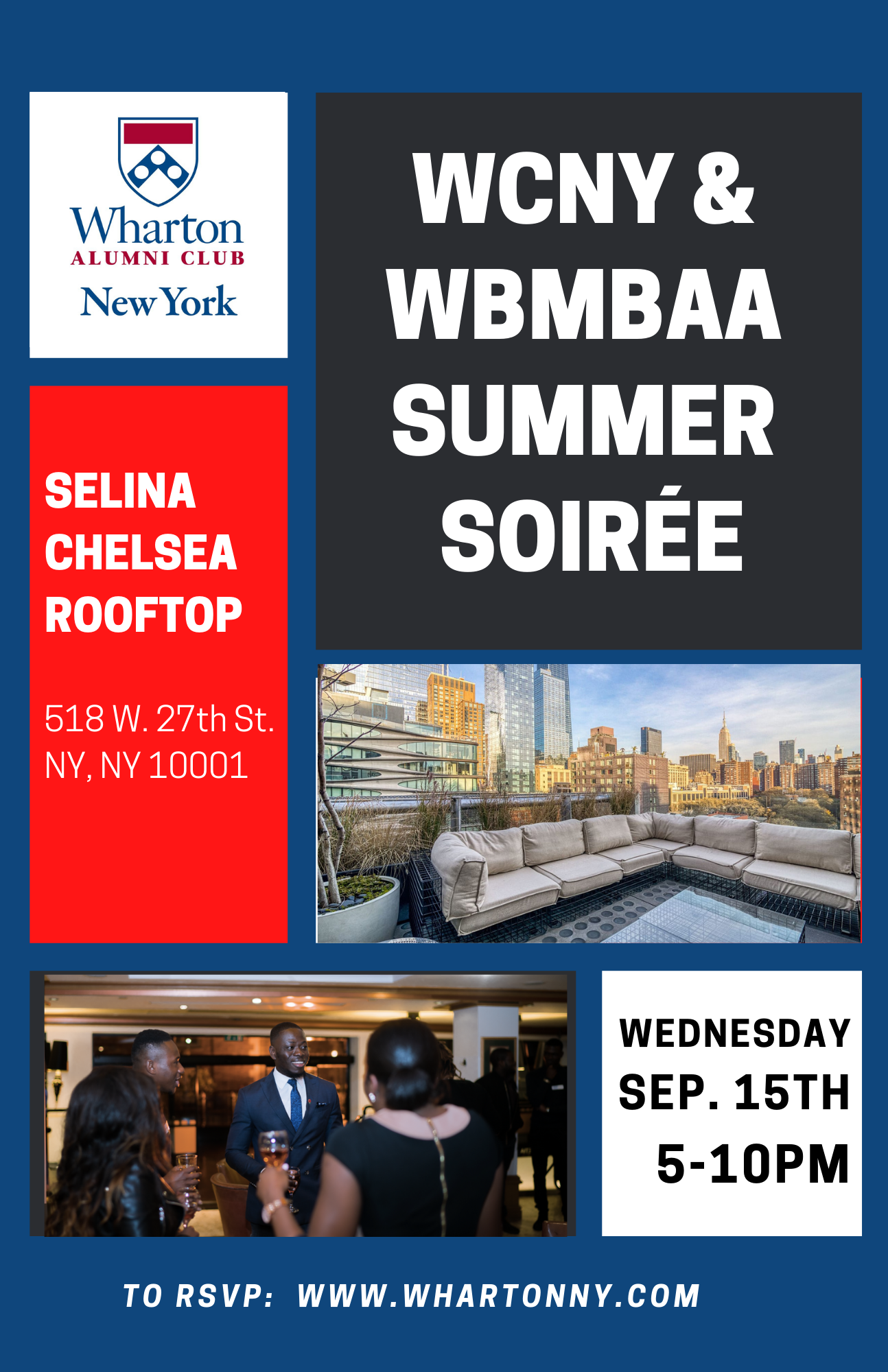 Join the WCNY & WBMBAA for a Summer Soirée at Selina Chelsea Rooftop
.
Meet us outside at this chic and covered outdoor setting to reconnect with fellow alumni and learn more about what our Wharton Global Club has in store for the coming months. We look forward to seeing you there!
PLEASE RSVP below
and invite fellow alumni in your network. If you have questions or suggestions, please contact
Obinna Obilo
, VP of Community for WBMBAA.
When:
Wednesday, September 15, 2021
5:00 PM ET - 10:00 PM ET
Where:
Selina Chelsea Rooftop
518 West 27th Street
New York, NY 10001
Cost:
No cost. Cash bar.
NOTE:
Per the current New York City and CDC guidelines, attendees may be asked to present a vaccination card (digital of physical copy), or show their status using the NYC COVID Safe App or Excelsior Pass App. WCNY & WBMBAA prioritizes your welfare above all and we look forward to hosting you safely on September 15, 2021.

** WCNY Disclaimer **
By attending this event (the "Event") hosted by the Wharton Club of New York (the "WCNY"), each attendee assumes all risks and accepts sole responsibility for any injury (including, but not limited to, personal injury, disability, and death), illness, damage, loss, claim, liability, or expense, of any kind, that attendee may experience or incur in connection with attending the Event. Attendee hereby releases, covenants not to sue, discharges, and holds harmless the WCNY, its directors, officers, employees, agents, and representatives, of and from any such claims, including all liabilities, claims, actions, damages, costs, or expenses of any kind arising out of or relating thereto.
Specifically relating to the global COVID-19 pandemic, attendee acknowledges the highly contagious nature of COVID-19 and voluntarily assumes the risk of exposure or infection by attending the Event, and that such exposure or infection may result in personal injury, illness, disability, and/or death to attendee. Attendee understands that the risk of becoming exposed to or infected by COVID-19 at the Event may result from the actions, omissions, or negligence of others who may attend the event or their families, colleagues, or others with whom they may have contact. Accordingly, attendee understands and agrees that this release includes any claims based on the actions, omissions, or negligence of the WCNY, its directors, officers, employees, agents, and representatives, whether a COVID-19 infection occurs before, during, or after participation in the Event.
In addition to all other rules and regulations relating to the attendee's attendance at the Event, attendee agrees to comply with all COVID-related procedures that may be implemented by the WCNY and the venue hosting the Event, including, but not limited to, mask-wearing and social distancing requirements and restrictions on certain activities that carry higher COVID-related risk, in order to protect as much as possible the health and safety of all Event attendees.
When:
5:00PM - 10:00PM Wed 15 Sep 2021, Eastern timezone

Where:
Selina Chelsea Rooftop
518 West 27th Street
New York, USA 10001 USA
[ Get Directions ]
Look Who's Coming:
Ronald England
Liya Mo
Akshara Reddy
Thomas Rinaldi
Adam Thompson
A&M Consumer Retail Group
San Eng
Akash Kumar
Michelle Harlan
MassMutual New Jersey-NYC
Amanda Chan
Sonia Mukhi
Persado
Isabelle Ji
Paul Michowicz
Ashley Lim
Mansa Tea
Bhavin Thacker
Regina Jaslow
Maksim Sorokorenskii
Thomas Nugent
Pickwick Capital Partners LLC
Aristide Toundzi
EY
Josiane Toundzi
UN
Jessie Ning
Roger Wu
Sydney Lapeyrolerie
Bob Reish
AboveBoard
Tarek Mohamed
Guest of Tarek Mohamed
John Bonini
Dara Cook
Cassie Ryding
Eunis Wu
Omar Vaishnavi
Akhilesh Kumawat
Bernstein
Claire Barou
VICTOR MASLOV
Jerrod Hill
Daniel Casiero
Ronald England
Nicole Pollack
... a total of 44 guests.
Note: to opt out from this list please sign in, go to My Account and change your preferences under My RSVPs.