Penn Club Business Networking Lunch
Business Networking Group (BNG)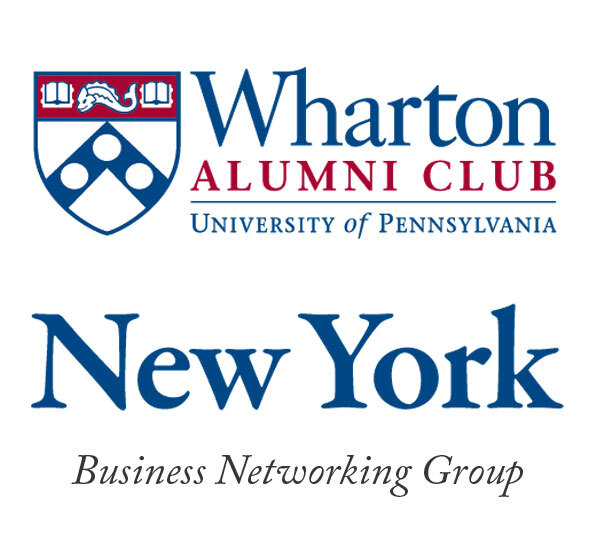 Wharton Entrepreneurs - Consultants - Business Development Professionals - Small Business Owners -Sales Professionals.
If your business growth and success depend on sourcing new clients, new deals, new customers or new business partners:
expand your selling and business development network.
advise and help other non-competing Wharton alumni grow their businesses.
grow with Penn Club members and Wharton Alumni as your extended sales force.
Be a part of the combined Penn Club and Wharton Club of New York Business Networking Group!
Membership in The Penn Club is not needed if a WCNY supporting member.
Penn Club members should RSVP to
events@pennclubny.org
.
To learn more
about the Penn Club Business Networking Lunch, contact Carol Vinelli at
lunchgroup@whartonny.com
.
When:
Friday, June 3, 2022 at 12:30 PM
Cost:
WCNY Dues Paying Members - $59/person, no walk-in's.
Other Wharton Alumni - $75/person
WCNY basic membership costs $95/yr at
Join/Renew Membership)
Venue:
The Penn Club
30 W. 44th Street
Dining Room, 2nd Floor
New York, NY 10036
(No walk-in's; must be pre-approved to attend due to function-industry exclusivity).
To Register:
Click here
to register. Pre-registration is required to participate.
All new participants must contact e-mail Carol Vinelli before registering for the meeting to ensure exclusivity.
Please be sure to include your full name, line of business, company name, e-mail address and phone number.
Cancellations must be made at least 72-hours (business day) prior to the event date by sending an email to
Gabriela Sanchez
. Refunds or credits for future events are not available for any no-shows or late cancellations.
** WCNY Disclaimer **
By attending this event (the "Event") hosted by the Wharton Club of New York (the "WCNY"), each attendee assumes all risks and accepts sole responsibility for any injury (including, but not limited to, personal injury, disability, and death), illness, damage, loss, claim, liability, or expense, of any kind, that attendee may experience or incur in connection with attending the Event. Attendee hereby releases, covenants not to sue, discharges, and holds harmless the WCNY, its directors, officers, employees, agents, and representatives, of and from any such claims, including all liabilities, claims, actions, damages, costs, or expenses of any kind arising out of or relating thereto.
Specifically relating to the global COVID-19 pandemic, attendee acknowledges the highly contagious nature of COVID-19 and voluntarily assumes the risk of exposure or infection by attending the Event, and that such exposure or infection may result in personal injury, illness, disability, and/or death to attendee. Attendee understands that the risk of becoming exposed to or infected by COVID-19 at the Event may result from the actions, omissions, or negligence of others who may attend the event or their families, colleagues, or others with whom they may have contact. Accordingly, attendee understands and agrees that this release includes any claims based on the actions, omissions, or negligence of the WCNY, its directors, officers, employees, agents, and representatives, whether a COVID-19 infection occurs before, during, or after participation in the Event.
In addition to all other rules and regulations relating to the attendee's attendance at the Event, attendee agrees to comply with all COVID-related procedures that may be implemented by the WCNY and the venue hosting the Event, including, but not limited to, mask-wearing and social distancing requirements and restrictions on certain activities that carry higher COVID-related risk, in order to protect as much as possible the health and safety of all Event attendees.