Wharton Investment Management Conference
An Invitation from the Wharton Investment Management Club.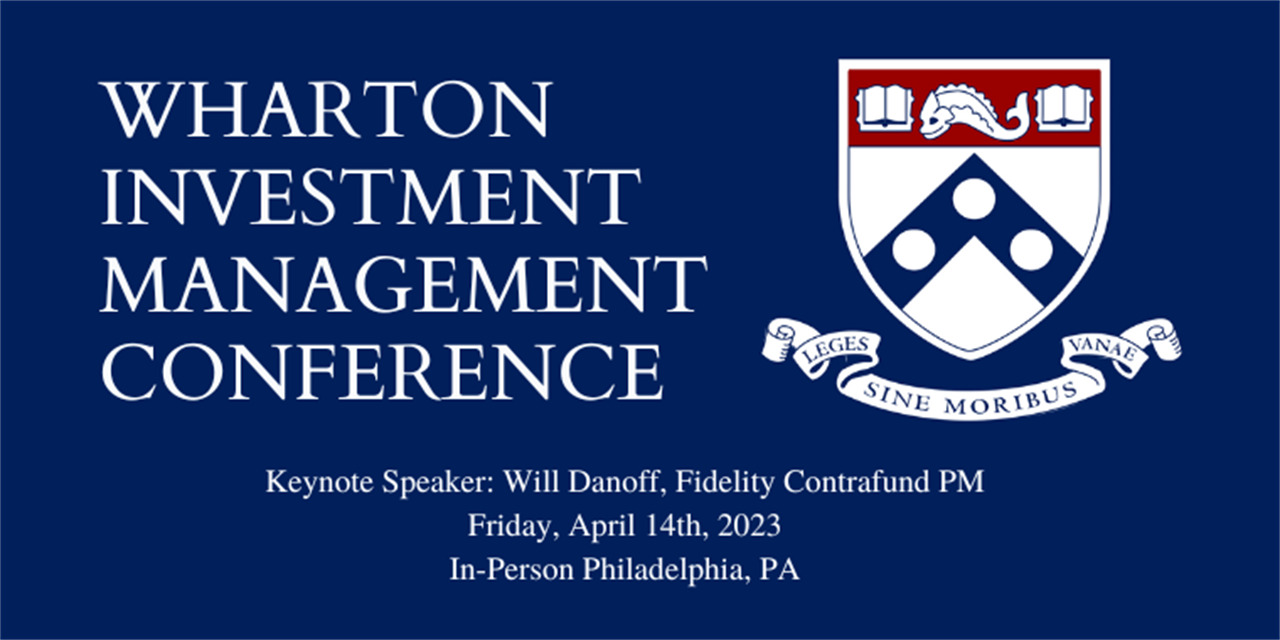 The Wharton Investment Management Conference (WIMC) strives to bring together investors in all stages of their journeys to exchange ideas and share experiences. The Conference invites MBAs from programs across the country, investment management professionals, and the academic community. The aim is to create a platform for investors to share their views of the market and investment philosophies.
Keynote Speaker: Will Danoff
Will Danoff joined Fidelity Investments in 1986 and has been managing the Fidelity Contrafund since 1990. Along with managing Contra, Will also manages several other Fidelity funds totaling assets of more than $190 billion. In 2007, Morningstar named Will "Domestic Stock Manager of the Year". Will is dedicated to the long-term benefits of active management. During his 32-year manager tenure, the Fidelity Contrafund (FCNTX) has averaged an incredible 12.56% annualized average return, more than 2% greater than the annual returns from the benchmark S&P 500 Index.
Featuring:
Macro: Blerina Uruçi (T.Rowe Price Chief US Economist), Jason Armstrong (Comcast CFO), Prof. Stephan Dieckmann​ (Wharton Faculty, Moderator)
Best Ideas: Bill Weber (Cooke & Bieler Partner & PM), Doug Holm (Deccan Value Investors Partner & PM), Ryan Anderson (Fidelity Consumer Analyst)
Lunch: 20min with Richard Perry (Perry Capital President, CEO)
Starting a New Fund: Ed McBride (Centiva Capital CIO & Co-Founder), Jay Kahn (Flight Deck Capital Founder), Ram Parmeswaran (Octahedron Capital Founder, PM), Vivek Goyal (Altimeter Capital Principal, Moderator)
Investing Philosophies: Franco Tapia (Capital Group PM), Mira Muhtadie (Willoughby Capital CIO), Rob Gould (Meritage Managing Director), Sean O'Malley (Cadian Capital Head of Strategy and Business Development, Moderator) Ted Orenstein (Walleye)
Emerging Markets: Nicole Wiley (100 Women in Finance COO and Chief Development Officer, Moderator), Santiago Jariton (Emerging Variant Founder and PM), Sharif Atta (SQM Frontier Co-Founder & PM), Wei Guo (Whale Rock Sector Head)
When:
Friday, April 14, 2023
09:30AM: Registration
10:00AM: Keynote Speech
11:00am​: Macro Panel​
12:00pm: Best Ideas Panel​
01:00pm​: Lunch
01:40pm: Ask Me Anything: Richard Perry​
02:15pm​: Starting a New Fund Panel​
03:15pm:​ Investment Philosophies Panel​
04:30pm​: Emerging Market Panel​
05:15pm:​ Ending​
05:30pm: Reception
*The final agenda and speakers for this event are subject to compliance approval and are not final.
Where:
Kimpton Hotel Monaco
Philadelphia, PA
Register:
Click here
for more information or to register.
This event is hosted by the Wharton Investment Management Club at The Wharton School.