Step Up. Stand Out. Kick Ass. Repeat
Special Event Speaker Series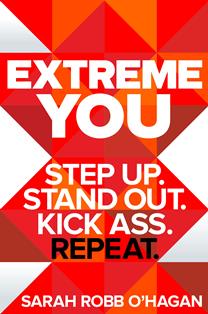 There's so much misleading and even harmful advice about success. We hand our young people trophies for showing up and tell them "everyone's a winner,' but it's not true -- everyone is not going to be a winner. Meanwhile, so many junior employees seem to think that if they just do what they're told and work hard to please the boss, they'll get safely promoted, but that's not the business world today.
What's the truth? With every opportunity and every challenge, personal or professional, we face a choice. We can take the safe path and conform to the accepted norms, but at a heavy cost: passions stifled, talents ignored, and potential squelched. Or we can make the other, far bolder choice, and embrace what author
Sarah Robb O'Hagan
calls Extreme You: to confidently bring all that is distinctive and relevant about yourself to everything you do. You'll achieve more if you're willing to step up—and out—of line.
In her forthcoming book,
EXTREME YOU: Step Up. Stand Out. Kick Ass. Repeat. (HarperCollins; April 2017)
, the former president of Gatorade and Equinox draws unconventional insights and kickass lessons from her own personal and professional experiences, including getting fired twice in her twenties on her way to turning around a five-billion-dollar sports drink business. She also draws insights and stories from her band of highly accomplished "Extremers" ranging from entrepreneurs, and corporate leaders through to a former secretary of state, an Olympic champion downhill skier and even a world-renowned tattoo artist. Robb O'Hagan has codified a method to help you rock your career and live the boldest version of yourself.
EXTREME YOU
shows that the route to success is far different from what we're usually told. Robb O'Hagan proves to us that achieving success isn't about conforming, hiding your weaknesses, or reaching a pre-planned destination. Instead, the EXTREME YOU approach is to continuously develop yourself to the max—warts and all—to tap your true potential and find your greatness along the way. Robb O'Hagan shows readers:
Why it doesn't matter if you don't yet know what you're good at or what goals to pursue;
Why most successful people didn't show early signs of success;
Why the problem is conformity, and the solution is to Get Out of Line – without turning into an asshole;
Why it's important to Get Over Yourself by embracing your weaknesses or lack of experience, and acknowledging where you need help;
How Extreme leaders can bring out the extreme in their people and develop Extreme brands and corporate cultures;
So many of us feel overwhelmed by choosing the direction we're destined for. We may think we aren't skillful enough to succeed, or fear that our goals are unreachable. Sarah Robb O'Hagan shows that success is open to anyone willing to develop the most Extreme version of themselves. Inspiring, laugh-out-loud funny, and practical, EXTREME YOU is a brilliant training program for becoming your own best version of yourself.
In these challenging times, success and satisfaction are going to take even more energy, originality, hard work and fierce attitude. EXTREME YOU shows you how to draw on everything you've got.
Click here
for Sarah Robb O'Hagan's Bio.
When:
Wednesday, March 29, 2017
6:30 PM - 8:30 PM
Where:
Midtown location (
Note: Address will be sent via email to all registered guests 24-48 hours prior to the event to the "Primary Email" address listed in your profile. Please review your profile to confirm that the email address listed is correct.)
Cost:
WNCY & Silver Members - $20 (WCNY supporting membership costs $95/yr at
Join/Renew Membership)
Other Wharton Alumni & Guests - $40
Gold & Benefactor Members - $0
Register:
Click here
to register.
Seats are limited so please register early
as events can and do sell out quickly.
Due to building security requirements, you must pre-register for this event. Walk-ins cannot be accepted.
Registration is subject to availability and will close on Tuesday, March 28 at 4:00pm - No Exceptions!


** Advanced Praise **
I've seen Sarah dazzle audiences with her extreme creativity, candor, and zest. I'm thrilled that at long last, those rare and infectious qualities are available in writing. She's a badass of the highest order and her book is full of bold ideas to energize you to become one too. — Adam Grant,
New York Times
bestselling author of
Give and Take
and
Originals
Every once in awhile, you need someone standing by your shoulder, inspiring you, cheering you on, pushing you to go further. Sarah might be just the coach you're looking for. — Seth Godin, author of
Linchpin
Sarah Robb O'Hagan draws on her own life experiences and those of other 'Extremers' to show you how you can find success by becoming your best you. There's no one else who can develop the potential greatness that lies inside you. But, as she explains, moderation won't cut it. The key is to go extreme! — Daniel H. Pink, author of
To Sell is Human
and
Drive
Everywhere we turn these days, we are offered instant gratification, but that's not what brings out the greatness inside. To be our best, we need the commitment and the courage Sarah Robb O'Hagan shows us how to tap in
Extreme You
. — Billie Jean King, Social Justice Pioneer and 2009 recipient of the Presidential Medal of Freedom.