Join the conversation with three successful and delicious restaurateurs on how they managed through Covid, lessons learned and how they are managing their businesses moving forward.
Restaurateurs Jon Kaplan, Owner of Carnegie Pizza; Nikoa Evans, Managing Partner of Couner Culture Hospitality Group; and Ben Conniff, Co-founder of Luke's Lobster will discuss their experiences during and plans for after Covid.
They will share their perspectives and insights on all aspects of managing a restaurant business and surviving in New York through Covid, as well as, what lessons they can share and plan to implement for the future.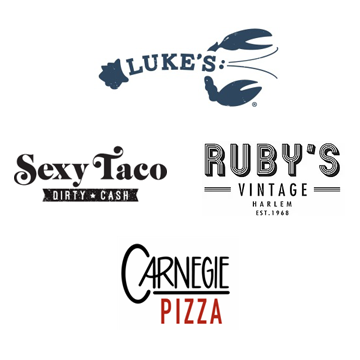 Discussion points will include, but not be limited to:
Targeting customers/Marketing
Ordering
Payment
Inventory management
Waste Management
Delivery
Dine in/Take out/Delivery change in models
Focusing on different areas in Manhattan, Jon, Nikoa and Ben will speak about their businesses and then take questions from attendees.
About Ben Conniff:
Ben Conniff, Co-Founder and Chief Innovation Officer of
Luke's Lobster
is a sustainable seafood company with a restaurant group, branded grocery business, and direct-to-consumer online market, in 2009. Ben has worn almost every hat through Luke's Lobster's evolution, but currently focuses on brand and culinary development, innovation, sustainability, and social responsibility. He's the author of
Real Maine Food: 100 Plates from Fishermen, Farmers, Pie Champs, and Clam Shacks
, and has also written for Saveur, Food 52, GQ, Smithsonian, Yankee, and Tasting Table. Ben sits on the board of the Maine Lobster Marketing Collaborative and is an advisor to many startup food and beverage companies. He lives in Portland, Maine, with his wife, Liz, and dog, Taco.
About Nikoa Evans-Hendricks:
Nikoa Evans-Hendricks is an accomplished culture and lifestyle entrepreneur. Nikoa is Co-Founder and Managing Partner of Counter Culture Hospitality Group, Owner of restaurant brands:
Sexy Taco NYC
and
Ruby's Vintage Harlem
restaurant and bar; and Co-Founder and Managing Director of former NYC retail venture N Harlem NY. Nikoa Evans is also a trusted strategic advisor with over thirty years experience in marketing, brand positioning, and economic development in diverse communities. Nikoa is also the founding board member of the economic development corporation Harlem Park to Park (HP2P). Nikoa has been featured in the New York Times, Architectural Digest, New York Magazine, Women's Wear Daily, USA Today, NBC News, CBS Sunday Morning, Good Morning America, Eater NY, Food Network's Savoring Harlem, and other top publications and media outlets. Evans received her B.A. in Economics from Stanford University and an MBA from J.L. Kellogg Graduate School of Management at Northwestern University.
About Jon Kaplan:
Jon Kaplan is the founder and operating partner of Carnegie Pizza in Times Square. A native New Yorker with 15+ years of experience in the industry across all types of hospitality businesses, from nightclubs to restaurants (including opening Made In New York Pizza with his father) Jon signed the lease for his store in January of 2020. He immediately felt the effects of COVID-19 and had to adapt to new/unknown protocols, rules, and regulations in order to move forward with the business, which was finally able to open in late October.
Carnegie Pizza
is a premium New York pizzeria using the best ingredients and time tested recipes in a sleek and modern space in the center of Manhattan. All aspects of the pizza are made from scratch in-house; from the dough to the sauce and all the toppings. Jon is obsessed with everything being fresh. Carnegie Pizza plans to franchise nationwide.
If you would like to share your expertise with our alumni and participate on a future panel please contact Susan Teplitz, VP of Business Networking at
businessnetworking@whartonny.com
.
When:
Monday, May 3, 2021
6:00 PM ET - 8:00 PM ET
Cost:
WCNY Supporting Members - $10 (WCNY supporting membership costs $95/yr at
Join/Renew Membership)
Other Wharton Alumni & Alumni Guests - $20
Gold & Benefactor Members - $0
Meeting Access Information:
A link, accessible by personal computer, tablet or smartphone, will be emailed to all registered guests 24-48 hours prior to the event to the "Primary Email" address listed in your profile. Please
login to update your profile
and confirm that the email address listed is correct. We will attempt to provide the ability to ask questions at the end of the presentation and time permitting.

Space is limited for this event. Please register soon.
Pre-registration is required. Please
register early
as events can and do sell out quickly.
Registration is subject to availability and will close on
Monday, May 3rd
at 9:00am.
Registering from another Wharton alumni club?
Click here
for assistance.
Cancellations must be made at least 48-hours (business day) prior to the event date by sending an email to
Gabriela Sanchez
. Refunds or credits for future events are not available for any no-shows or late cancellations.
Click here
for full details.