Decision 2021: The Most Important Mayoral Race in New York History
Special Invitation by The Penn Club of New York and Columbia Club

The Issues, Candidates and the New Way to Vote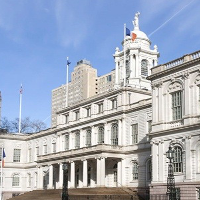 This year's mayoral election is the most important in New York City history. As the city comes back from Covid-19 and handle an economic recovery unprecedented in decades, voters will go to the polls in the June primary to start the process to replace term-limited Mayor deBlasio. Voters will be also asked to pick a public advocate, city comptroler, five borough presidents, all 51 members of the City Council and a new Manhattan district attorney this year.
This year's election will also be the first mayoral race in city history to be conducted with ranked choice voting. This new process eliminates the previous runoff election process and allows voters to "rank" several candidates on this ballot. Popular in several other states, ranked choice voting has only been used a handful of times in New York City – earlier this year in special elections for City Council seats in the Bronx and Queens.
This panel will bring together a panel of experts to discuss and explain what ranked choice is and analyze the candidates and state of the race.
PANELISTS:
Matt Gewolb
was the executive director and counsel of the 2018 New York City Charter Review Commission, which researched and drafted the original plan for ranked choice voting in city elections. Currently assistant dean and general counsel of New York Law School, Mr. Gewolb has an extensive background in New York City government. He is a former legislative director of the New York City Council, where he oversaw much of the Council's policy work. He currently serves as a commissioner of the New York City Housing Authority. Mr. Gewolb is an advisor to Maya Wiley's campaign for mayor this year. Mr. Gewolb is a former director of government programs and lecturer-in-law at Columbia Law School and a former adjunct professor at Fordham Law School. He has served as chief of staff to the minority leader of the Georgia Senate and as executive director of Residents for a More Beautiful Port Washington. He received his bachelor's degree from Cornel University, his law degree from Emory University and a master's degree in Higher and Post-secondary Education from Teacher's College, Columbia University.
Lisa Hernandez Gioia
has over two decades of experience in politics, communications and fundraising. Presently a senior vice president with Ichor Strategies, she was previously external affairs director for the Related Companies, where she worked closely with the company's CEO to launch Hudson Yards, the largest private development in American history. Ms. Hernandez Gioia was deputy national finance director for Hilary Rodham Clinton's 2016 presidential campaign, where she managed finance activities for Secretary Clinton in the New York City metro region. Prior to Secretary Clinton's campaign, Ms. Hernandez Gioia created and ran The Esler Group, a New York City political consulting firm, where she worked with citywide and statewide candidates, including former City Council Speaker Gifford Miler's 2005 mayoral race. She also worked with nonprofit groups, including the Clinton Global Initiative. A Seattle native, Ms. Hernandez Gioia holds a bachelor's degree from the University of Washington and lives in Sunnyside, Queens, with her husband, Eric, and their four children.
CUCNY Governor John R.D. Celock
will moderate this panel. The president of Celock Media Group, a communications consulting firm, Mr. Celock is an award-winning journalist who has covered politics at the local, state and national levels. Mr. Celock is the former state politics reporter for The Huffington Post and his work has been cited in impacting state legislation in multiple states. He is the author of The Next Generation: Young Elected Officials and their Impact on American Politics (Continuum International Publishing 2010). He has extensively covered politics and real estate development across New York City and New York State. He holds a bachelor's degree in Political Science from Niagara University and a master's degree from the Columbia University Graduate School of Journalism.
When:
Tuesday, May 18, 2021
6:00 PM ET - 7:00 PM ET
Cost:
This event is offered to all Wharton alumni at no cost.
The Issues , Candidates and the New Way to Vote.
Meeting Access Information:
A link, accessible by personal computer, tablet or smartphone, will be emailed to all registered guests 24-48 hours prior to the event to the "Primary Email" address listed in your profile. Please
login to update your profile
and confirm that the email address listed is correct. We will attempt to provide the ability to ask questions at the end of the presentation and time permitting.

Pre-registration is required. Please
register early
as events can and do sell out quickly.
Registration is subject to availability and will close on
Tuesday, May 18th
at 9:00am.
Registering from another Wharton alumni club?
Click here
for assistance.
Cancellations must be made at least 48-hours (business day) prior to the event date by sending an email to
Gabriela Sanchez
. Refunds or credits for future events are not available for any no-shows or late cancellations.
Click here
for full details.