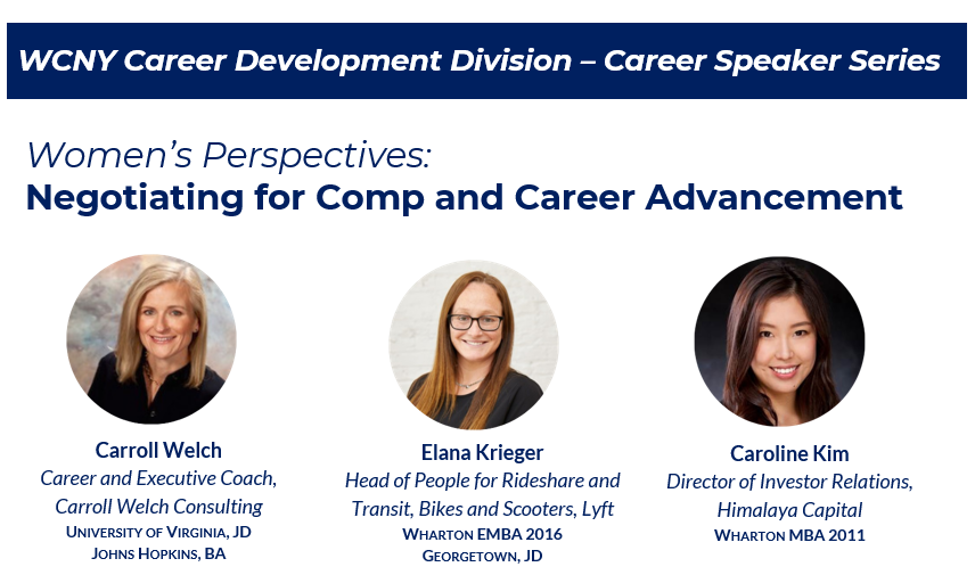 Special Invitation for Supporting Members of the Wharton Club of New York
Whether you're in transition between careers, re-entering the workforce post-covid, or strategically thinking about your next move or promotion, we invite you to join us for a conversation on career and compensation negotiations from a woman's perspective.
Led by Career and Executive Coach Carroll Welch, the panel will share negotiations strategies and tactics, discuss unique challenges and opportunities for women, offer perspectives from a Hiring Manager, and address your questions during the Q&A.
You are invited to submit questions in-advance
HERE
. You may also submit questions via the chatbox during the Q&A session.
About Carroll Welch
:
Carroll Welch is a career, executive and leadership coach who partners with professionals at all levels and across industries on career transition, relaunch and advancement. Carroll is certified as a coach in the GetFive job search methodology and its four-step approach to salary negotiation. GetFive's CEO is Wharton UG'1991 Darren Kimball. Carroll also holds the International Coach Federation's PCC (Professional Certified Coach) credential. Earlier in her career, Carroll was a practicing employment law attorney whose work at two major law firms included supporting management on workplace law issues. Carroll has been a frequent speaker, instructor, group leader and writer on career-related topics and has developed and presented program curriculum on leadership development. She received her JD from University of Virginia School of Law her BA from Johns Hopkins University.
About Elana Krieger:
Elana Krieger has been a human capital leader for over 15 years. She is currently the People Lead of the Rideshare and Transit, Bikes and Scooters groups at Lyft. She previously held HR and legal roles at Via, Boxed, Viacom and Clifford Chance. Elana received an MBA with a major in Organizational Effectiveness from the Wharton School at the University of Pennsylvania, JD from Georgetown University Law Center, and BS from Pennsylvania State University.
About Caroline Kim:
Caroline Kim is a strategic business development and investor relations professional with over 18 years experience. She is currently the Director of Investor Relations at Himalaya Capital, an Asia-focused opportunistic value investing firm, where she is responsible for strategic business development and management of the firm's institutional investor relationships. Caroline previously headed the Hong Kong office and Asia Pacific investor relations for Paulson & Co. and helped launch global fundraising and investor relations for the AI-driven multi-manager platform Atom Investors. She started out her career in investment banking covering Asia Pacific technology, media and telecommunications with JPMorgan and global M&A advisory with Credit Suisse First Boston. She received her MBA from The Wharton School and BBA from Bernard M. Baruch College. She is a CFA, CAIA and CIPM charterholder.
When:
Tuesday, July 27, 2021
12:00 PM ET - 1:00 PM ET
Cost:
This event is offered exclusively to WCNY Supporting Members at no cost. Not a supporting member yet? Join now! (WCNY supporting membership costs $95/yr at
Join/Renew Membership)
Meeting Access Information:
A link, accessible by personal computer, tablet or smartphone, will be emailed to all registered guests 24-48 hours prior to the event to the "Primary Email" address listed in your profile. Please
login to update your profile
and confirm that the email address listed is correct. We will attempt to provide the ability to ask questions at the end of the presentation and time permitting.
By registering for this event, you agree to the following:
I understand that this session may be recorded and made available, and that my image, name, comments, or questions may appear on-screen.

Pre-registration is required. Please
register early
as events can and do sell out quickly.
Registration is subject to availability and will close on
Tuesday, July 27th
at 9:00am.
Registering from another Wharton alumni club?
Click here
for assistance.